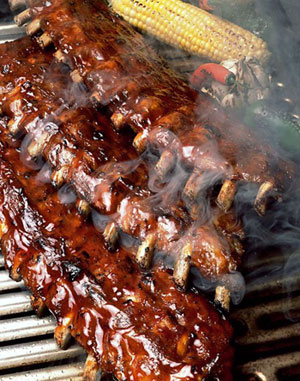 I have an image of my father wearing a blue and white canvas pin-stripe apron over his clothes that my mother gave him (with good reason), standing over the barbecue in our backyard alternately spraying charcoal fluid (with big effect) on the briquettes and a few moments later spraying, using his thumb as a spray cap, a large bottle of Canada Dry Soda Water filled (and refilled) with water from the hose onto the resulting flames from the barbecue that were threatening to ruin his perfect barbecued ribs.
They were perfect which is sort of surprising since my father couldn't really cook at all. Scrambled eggs and burnt bacon is about all I remember from his repertoire except for the night he exploded a can of baked beans since he'd decided it was okay to heat them in the can (unopened) which he'd placed in a large pot of boiling water and, I think, forgotten about them. Tip: don't try that at home.
But his barbecued pork ribs were perfect. The secret was the sauce. The secret was that he marinated them religiously overnight (turning them constantly). The secret was that he cooked them perfectly albeit with a strange method that involved alternately kicking the fire up to high temperatures and then knocking it down. It was a method that I still remember and it was before we knew that charcoal fluid is truly bad for you so don't try that at home either.
As I look back on them, they're a little retro, a little over the top, no babybacks for Pop, these were old-fashioned, thick, fatty pork ribs. But they were delicious.
Henry Ephron's BBQ Sauce & Pork Ribs
(we were a big family and we all ate a lot, so you might want to cut this recipe in half)
He made the sauce a big old speckled roasting pan, which is what he marinated the ribs in.
2 Large Yellow Onions (chopped, not minced)
4 gloves of Garlic (in those days we used a garlic press, but minced would work just fine)
2 bottles of Heinz Ketchup
2 bottles of Heinz Chili Sauce
1/2 bottle of Dijon Mustard
1 cup of Olive Oil
Stir all ingredients together and marinate four racks of pork ribs overnight in the pan covered with tin foil or saran wrap in the refrigerator, turning often. (See what I mean, you might want to cut this whole deal in half unless you have a big family or having a party.)
BBQ over some version of a charcoal BBQ. For longer than you think, cause they're pork, 45 minutes or so at least, being careful not to let the flames ever get so high as to burn the outside of the ribs.
One of my sisters does a cheat on this and cooks the pork ribs in the oven for half an hour and then finishes them on the bbq, but I prefer the old-fashioned way.
Whether you cook them part in the oven and part on the grill or all on the grill, turn often and baste frequently! My Dad didn't cut the racks in half so watching him turn them over with a tongs was always a little dangerous and exciting, since there was always the possibility that one of them might fall on the lawn (and get picked up before anyone over the age of 7 noticed).
Serve with:
Applesauce
Hot Sauerkraut
Baked Potatoes with Sour Cream and fresh chives