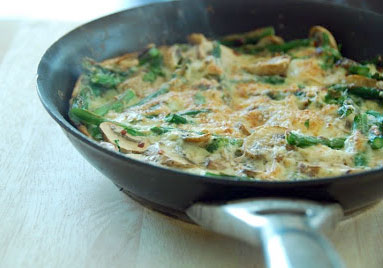 When I was a kid, Lent never seemed that hard to me. I had to give up something I really loved like Snickers (which I seriously needed to cut back on anyway) and avoid meat on Fridays (which meant eating my grandmother's fri--taaa-taas). Eating Nan's frittatas was not a sacrifice.
Frittata is nothing more than eggs with vegetables, cheeses, or meats cooked into it. Yet, my grandmother's frittatas were always something special -- delicious, healthy, and comforting.
Whether or not you recognize Lent or have an Italian grandmother, there are many reasons why you should know how to make a frittata:
They're ridiculously fast and easy to make.
They're the perfect meal for the end of the week when you've run out of food. You could put just about anything in a frittata, (though I'd avoid chocolate chips).
They're endlessly versatile. Make them with whole eggs, egg whites, or Egg Beaters; add meats, cheeses, or veggies; and eat 'em for breakfast, lunch, or dinner.
They make great leftovers for tomorrow's lunch. Try some in a sandwich.
They're so much fun to say. Come on, you know you want to say it like Nan used to. So in your best Italian grandmother accent and say, "fri--taaa-taa" as if it's the greatest word in the world. I know for Nan, it was right up there with "pizzelle" or her favorite word, "bingo."
Here's how to make a great frittata in 5 easy steps:
1. Saute fillings before adding them to the eggs. This will impart more flavor and ensure that the fillings are thoroughly cooked.
2. Lightly whisk eggs with herbs and seasonings before adding to the pan.
3. Cook frittata in a heavy, flat-bottomed skillet over medium heat.
4. This one is important: Using a fork, gently push the egg mixture from side to side, allowing it to seep to the bottom of the pan. This will ensure that the eggs cook thoroughly.
5. Place the frittata under a broiler to create a puffy, golden brown topping.
When I served it to Jeff, I said in true Nan fashion: "Come on, have a nice piece of frit--aaa--taa with asparagus and mushroonz." For some reason, Nan could never pronounce the final "m" in mushrooms; it always came out as "mushroon," which would inevitably make me laugh, which would inevitably lead to Nan saying, "What? What's so funny?"
Italian Asparagus, Mushroom, and Parmesan Frittata
Makes 2 servings.
1-2 teaspoons olive oil
10 asparagus spears, cut into 1-inch slices
1 cup sliced white button mushrooms
6 large eggs (Egg Beaters or whites only are fine)
1/3 cup grated Parmesan cheese (divided)
1 1/2 tablespoons chopped fresh parsley
1/4 teaspoon crushed red pepper flakes
A few dashes of salt
Bring a small saucepan of water to a boil. Boil the asparagus for 2 minutes; drain, then place in a bowl of ice water. Shocking it will maintain its vivid green color. Drain and set aside.
Meanwhile, beat the eggs in a small bowl with half of the cheese, the fresh parsley, and salt and red pepper.
Add olive oil to an 8-inch non-stick skillet over medium-low heat. Add mushrooms and sauté for 5 minutes or until golden brown; add the asparagus and cook 1 more minute. Pour the egg mixture into the skillet. With a fork, gently move the egg mixture from side to side allowing the egg to seep to the bottom of the pan. Do this for 5-7 minutes, until the eggs start to solidify and a crust begins to form around the edges. Give the pan handle a jiggle, and when the eggs appear nearly set, evenly sprinkle the second half of the cheese over the top of the frittata.
Remove the pan from the stove top and place under the broiler for 4-5 minutes, or until the top begins to puff up and turn golden brown. Keep a close eye on it so it doesn't burn. Let cool for a couple of minutes before slicing. Serve hot or at room temperature.
Susan Russo is a free lance food writer in San Diego, California. She publishes stories, recipes, and photos on her cooking blog, <Food Blogga and is a regular contributor to NPR's <Kitchen Window. She is also the author of Recipes Every Man Should Know
and The Encyclopedia of Sandwiches
.