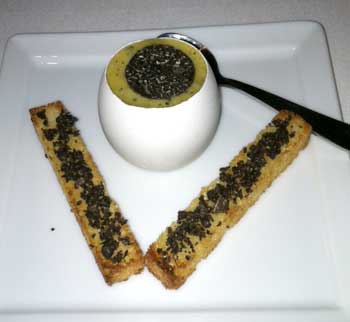 I turned fifty-two last week. While I'm told that fifty-two is the new thirty-eight, no one told my metabolism. It seems to have slowed even more than I have. Knowing this, and knowing that the only way to really celebrate a birthday is to eat and then eat some more, my wife, Peggy, and I had been dieting from the end of the holidays to the big day – ten whole days. And when the big day came, we wasted no time in returning to our post-holiday fighting weight. Here is how we did it.

Thursday, my actual birthday, was the big kick off. We went to Patina for its annual truffle dinner. Patina has been having these extravagant dinners in honor of the truffle – yes, it is celebrating a fungus, but what a fungus - for the past several years, and we always talked about going, and this year, the dinner fell on my birthday. Given that Peggy and I have been together for almost 30 years, and she has simply run out of things to buy me as a birthday gift, especially just two weeks after Christmas, we decided that this would be it. She couldn't have done better.


The truffle dinner is set up as a tasting menu of three, five or seven courses. Since three courses hardly a dinner makes, Peggy went for the five course tasting and I went for the seven with the idea that we would share my first two courses. We decided to order the optional wine pairings and since it was my birthday, but really because it was also the day my daughter told me she was accepted to Harvard Law School (very big news for a lawyer like me who wasn't), we started with a glass of sparkling wine from Alsace for a toast to her. Over the course of the night we tried ten different wines and took a cab home.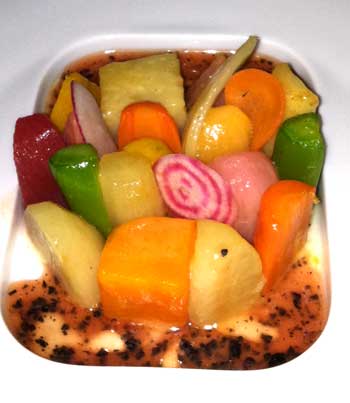 As for the meal itself, it started off with Egg and Truffles, a soft cooked egg yoke infused with truffles, all floating in a hollowed-out egg shell. Beautiful and delicious. Other highlights were Scallop Crudo and a Glazed Vegetable Mosaic with Black Truffle Condiment, delicately cut vegetables standing at different heights, looking like a city skyline, shining with a slightly sweet glaze and surrounded by a moat of truffle sauce. I told Peggy that the Vegetable Mosaic must truly be outstanding for me - a protein, fat and pure carb eater - to like it so much.
Before dessert, a Vecherin with White Chocolate Truffle Sorbet, and because seven courses plus a Parsnip Soup Amuse Bouche isn't really enough food for one night, we added a cheese course of a Black Truffle Brie de Meaux, a soft brie with truffles, served almost runny. It was my favorite dish of the night and may have moved into my top ten overall.

Friday was our "day to rest" with two more big meals planned for Saturday and Sunday, but our version of resting this weekend was hardly a rest at all. For Christmas, Peggy had given me a California Pinot Noir Tasting Box from TastingRoom.com that came with six 50ml bottles of California Pinot Noir – totaling just over a third of a full bottle of wine. We decided that Friday would be a good night to do the tasting since we wanted to eat light, so Peggy put together a fantastic charcuterie plate of four cheeses, salami, bresaola and prosciutto. She warned up a loaf of Italian bread, made a salad of arugula, pear and balsamic vinegar and we tasted the wines. (She had bought a second Tasting Box "so we could do the tasting together," she said, though I think it was so she wouldn't have to split the wine.)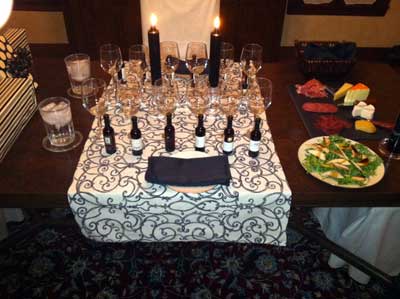 The Pinots ranged from light to full-bodied and were from across all of California. My Tasting Box gift came with the choice of any two bottles from the group, so the next morning I ordered my favorites, Three Sticks Pinot Noir from the Durell Vineyard, one of Sonoma's Pinot Noir and Chardonnay standout vineyards, and Papapietro Perry. Both were rich and dark and full of earth. Friday ended with Peggy giving me a birthday gift after all, which turned out to be a membership in an Italian wine club. (Maybe you are noticing a pattern.)

Saturday was dinner with my law partner, Bruce, and his wife, Tani. Tani has her birthday just eight days after mine and we have been having joint birthday dinners (and many, many other kinds) for the 26 years that Bruce and I have been partners. The dinner was at Playa, John Sadler's more casual version of his spectacular Rivera restaurant. Highlights included the Chiles Gueros Rellenos, tempura fried chiles stuffed with crab and spiced with ginger, Sadler's signature hand-made Tortillas with flower petals baked into the corn masa and Thai Tamilli, with masa, shrimp, Thai chiles and more.

Sunday was the final meal, with my mother taking me to Sotto, a new restaurant that cures all of its own pork products and boasts a wood-burning oven with all the parts, including the earth for the cement and the builder, shipped from Naples. We had a brick pressed chicken, house cured pork belly porchetta, a pizza Margherita and even a little gem lettuce salad which all saw time in the wood-burning oven. The wine list focuses on Southern Italian Wines and is very well priced, though the real drink focus is on the cocktails. Not being able to ever handle anything with over 14.5% alcohol, I stuck with the wine, an excellent Falanghina for only $30.

Now that we have survived my birthday weekend, and given our enormous effort to ingest as many calories as possible in just four days, Peggy and I have returned to our diets. Of course our daughter's birthday is only three weeks away, and even though she lives in a different city and won't be with us, maybe we can justify a full week of celebration for it. At least it's worth a try.
Bob Wyman practices entertainment law as a partner in the firm of Wyman & Isaacs, LLP, but spends much of his time eating and drinking in L.A.