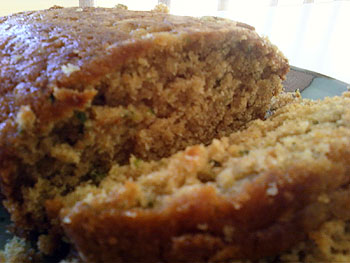 This fall I took a night train ride from Buffalo, New York to Chicago, Illinois. Normally, I find the train relaxing, a chance to rest, read and reflect. On this trip, however, I just wanted to sleep. But the guy sitting behind me snored so loudly that even the usually soothing train sounds couldn't drown out his volcanic eruptions.

By the time we arrived at Union Station, I stumbled out of the train bleary-eyed, and headed for the nearest coffee shop. There, I unpacked a treasure from inside my backpack – my sister-in-law's zucchini bread. I sat by the window, watching Chicagoans hurry through a light rain to their offices. Sipping a steaming latte, I savored every bite of the cake-like bread slices. I can't think of a breakfast I've enjoyed more.

I realized I had never baked zucchini bread. Back home in Los Angeles, I decided it was time to rectify that situation. I tweaked the original recipe, which called for 3 cups of all-purpose flour. These days I rarely use white flour, so I experimented with a different flour mix. I found a happy solution using 2 cups of Arrowhead Mills organic pastry flour (ground from soft wheat berries) combined with 1 cup of wheat free whole grain flour. (To make this flour I used a Victorio hand crank grain mill, grinding ¼ cup organic short grain brown rice, ¼ cup organic steel cut oats and ¼ cup organic whole millet.)

This flour combination provides a wonderful flavor and moist texture, but, because it is lower gluten than all-purpose flour, it does pose a challenge – getting the bread out of the pan in one piece. Carefully oiling and flouring the pan helps, as does letting the bread cool completely before trying to set it free. Another solution is to simply leave the bread in the pan. While it's cooling, use a knife to separate the bread from the sides of the pan, to keep it from getting soggy. Then, when you can't wait any more, go ahead and cut slices. Either way – in the pan or out of it – the bread will quickly disappear. It's wonderful to have with afternoon tea or on those mornings when you need something special to help face the day.

Zucchini Bread

2 cups Arrowhead Mills organic pastry flour
1 cup wheat free flour (ground from ¼ cup organic short grain brown rice, ¼ cup organic steel cut oats and ¼ cup organic whole millet)
(Note: instead of the above flour mix you can substitute 3 cups of all-purpose flour)
1 tsp. baking soda
1 tsp. baking powder
1 tsp. cinnamon
3 eggs
1 ½ cups sugar
2 tsp. vanilla
1 cup canola oil
3 cups grated raw zucchini

Preheat the oven to 350°F. Grease and flour two loaf pans.

Combine the flour with the baking soda, baking powder and cinnamon and set aside.
In another bowl, at a low speed with an electric mixer, beat the three eggs. Gradually add in the sugar and vanilla. Add in the oil. Add in the grated zucchini. Gradually add in the flour mixture. Pour the batter into the two prepared loaf pans. Bake for 45 minutes to one hour until loaf is firm.

Emily Dwass is a Los Angeles-based free-lance writer. Her work has appeared in the Los Angeles Times, the New York Times and other publications.