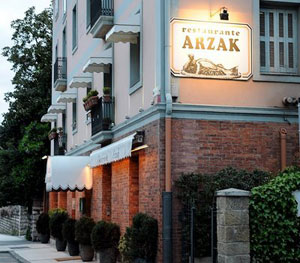 Dateline 2011: San Sebastian, Spain
3 Star Michelin "Arzak"
(Number 8 in the Top Fifty Restaurant's of the World poll)

God may have texted Noah to board the Ark with his family, seven pairs of birds, clean animals, and one pair of the unclean but God told me in a separate vision to board the eponymous restaurante Arzak in the basque country with those same birds, those same animals.
All I got to say is that I hope Noah brought a pastrami and rye because Chef Elena Mari Arzak took those birds, took those animals and grilled them a la plancha to perfection last night in a meal of Biblical proportions – and obliterated any memory of Ferran Adria' and El Bulli. God is now on my speed dial. Most of the time I had no idea what I was eating during the three hour tasting menu but it was fantastic: Cromlech (with foie gras, coffee, and tea), Kabraroka (with kataifi) and Patchouli (with prawns).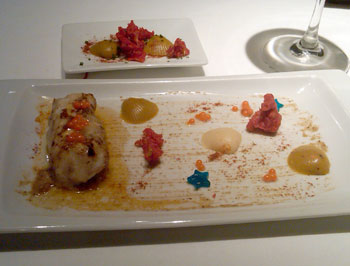 They looked like exhibits at the Dali' museum in Figueres and I'm fairly certain these were all names of food that appeared on the menu. But it's equally plausible I blacked out from my amaretto cocktail, thirty year old glass of rare Noe sherry, and "As Sortes" 2009 bottle of blanco – and woke up at a Welcome Back Kotter reunion instead – sharing stories with Cromlech, Kabraroka, and Patchouli.

Some other pyrotechnical culinary tidbits were low tide monkfish with sea shells made out of vegetables (see accompanying photo), mead with fractal fluid, and pistachio-beetroot stone. Someday when you are older I will tell you about the seafood soup extract and dusted egg with mussel which made me openly weep – but not now. I must gather myself and do more of the Lord's work at Mugaritz – the other 3-Star Michelin in town (Number 3 in the World) tomorrow nite. Pray for me.
Arzak
Avenida ALCALDE JOSÉ ELOSEGUI, 273
20015 San Sebastián, Spain
943 278 465
Bruce Cormicle is an attorney, writer, and chef who works in Beverly Hills and recently started his own catering company called "You've Been Served".