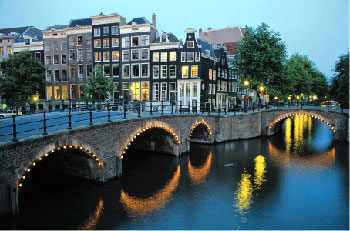 In Amsterdam, restaurant food tends to be hit-or-miss. Most dishes are under-seasoned, but that doesn't mean you won't eat well.
The fact is, you're likely to have good cafe food; meaning great sandwiches, delicious cheeses, excellent coffee, and plenty of good breads and pastries. Meanwhile, Amsterdam's various ethnic offerings continually surprise new visitors. The trick is knowing where to find these spots and getting the local experience while you're at it.
Interestingly, some Dutch export products consumed at home taste much better when you're in Holland. Heineken and Grolsch, for instance, seem to have more subtleties and depth of flavor.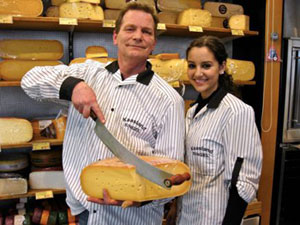 Gouda isn't generally regarded as a particularly interesting cheese, but stop by Kaasland Singel, west of Centraal Station, and have a sampling of the locally produced cheeses. You'll be surprised that the Gouda can have a creamy richness similar to French comte.
What's more, you know you're not in Kansas anymore when you taste Gouda made from cow's or goat's milk and flavored with any one of a dozen herbs and seasonings, including stinging nettle, cumin, pepper, mustard seed, garlic and onions, coriander, Italian herbs (garlic, sun dried tomatoes, and olives), walnuts, hot pepper, garlic, or basil.
Living on the edge of the North Sea, the Dutch have a love of seafood. Walk across the street from Kaasland Singel to the herring shack overlooking the canal for a uniquely Dutch experience: a plate of lightly pickled, raw herring.
Locals will tell you that the best herring is caught in the spring. Purists avoid the traditional condiments, onions and pickles, preferring to savor the fish au naturel. To eat them Amsterdam-style, order your herring whole, pick it up by the tail, tilt back your head, and let the fish descend into your mouth.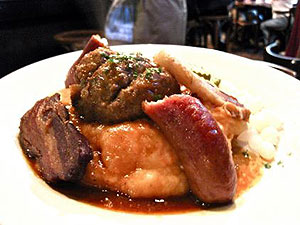 If you want to continue sampling traditional Dutch food, head to Spuistraat and visit D'Vijff Vlieghen (aka, The Five Flies) and its neighbor across the street, Restaurant Haesje Claes and order the Dutch stick-to-your-ribs classic, hutspot: mashed potatoes, carrots, and onions served with smoked pork sausage, thick bacon, and a super-sized beef meatball.
If you can't get a reservation at either restaurant, the locals know that you can order from the Haesje Claes menu at De Koningshut, the homey workingman's bar next door.
Whatever you try from the extensive menus should be accompanied by large quantities of Dutch beer or, an Amsterdam favorite, Jupiler from Belgium.
If you're craving ethnic food, there are many Asian restaurants through out the city. Because of the Netherlands' colonial history, Indonesian restaurants serving rijsttafel (rice table) have long been popular. The always crowded, Restaurant Kantjil & de Tijger bills itself as an Indonesian restaurant, but the menu suggests a fusion of many Asian cuisines.

Zeedijk street, from Prins Hendrikkade in front of Centraal Station to New Market, along the western edge of the Red Light District, has dozens of restaurants serving the cuisines of many nations.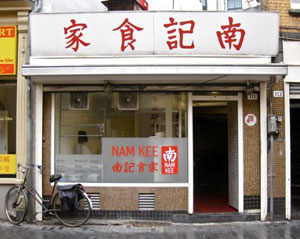 If you hunger for large platters of meat, there are Argentinean and Brazilian restaurants. For Asian cuisine, there is Indonesian, Thai, and Vietnamese.

Many travelers I know insist on "going native," but sooner or later tire of the local cuisine and have an insatiable craving for Chinese food. Nam Kee is the most-recommended with its 17-page, encyclopedic menu offering rice, noodle, curry, meat, seafood, and vegetarian dishes. The waiters don't speak English, a rarity in Amsterdam, and they don't take American credit cards, which is true at most restaurants, so bring euros.

Besides the usual Mandarin and Cantonese menus, there is Suriname Chinese, another remnant of the Dutch colonial experience.

Ethnic restaurants are also found in De Pijp (the Pipe), especially on Albert Cuypstraat where you'll find the delightful Bazar. The Middle Eastern dishes are under-seasoned, but you'll spend hours happily talking and drinking, thoroughly enjoying the eccentric interior.
David Latt is an Emmy-award winning television producer who turns to cooking to alleviate stress. He shares his experiences with food and his favorite recipes on his blog Men Who Like To Cook.