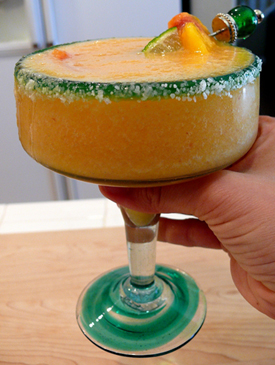 1/2 cup tequila
1-1/2 cups margarita mix
2 ounces Peach Schnapps
16 ounces (about 2 cups) of frozen or fresh peaches
1 Tablespoon of sugar (optional, add only if using frozen peaches or fresh peaches that are not sweet)
1 cup crushed ice
Fresh lime for rubbing around rim of glass and garnish
Kosher Salt
Run a wedge of lime around the rim of a margarita glass. Dip the wet rim in kosher salt.
Add tequila, margarita mix, schnapps, peaches, sugar and ice to the blender. Blend until smooth.
- Recipe courtesy of Cathy Pollak