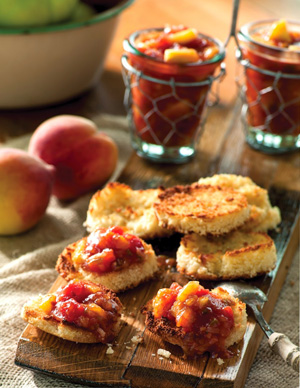 Recipe from A Time to Cook – Dishes from my Southern Sideboard
Photography by Helen Norman
Often when entertaining, I like to serve some sort of cornbread crisp with a dip or a topping. Peach Salsa is just the ticket to a dance of flavors and textures. The splash of fruity sweetness adds a delectable complement to a basic fresh salsa.
Peach Salsa:
3-4 medium to large vine ripe tomatoes
1 small onion or 2 shallots, or both
3-4 garlic cloves
3-4 small peppers or 2 larger ones (e.g., bell, banana, or even jalapeño), chopped, hotter peppers deseeded
4 large basil leaves, cut in chiffonade
chopped cilantro to taste
1 teaspoon salt
1/2 teaspoon freshly ground black pepper
dash of cayenne pepper
2-3 peaches
1/4 cup olive oil
splash of lime juice
Combine all ingredients in either a food processor or a bowl. Process for a smooth salsa, or mash for a chunkier texture. Serve with cornbread crisps.
Cornbread Crisps
Bake your favorite cornbread recipe with only half the batter in the skillet. When done, cut into rounds and toast to additional crispiness. Alternatively, use regular thickness of cornbread, cut into rounds and slice open-face style. Toast the rounds to make crisps.
- Recipe courtesy of James Farmer III