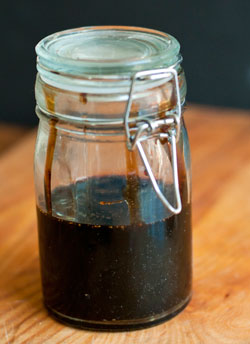 Spring has sprung! When it comes to weather, we Californian's have it pretty darn good. Crisp mornings, sunny afternoons, and cool evenings reminds us that soon enough, we will be sporting the occasional sun dress, tank top, or skirt. My cooking is starting to reflect that.
Lean grilled meats, roasted salmon, and lots of organic, grass fed chicken keeps the calories and the carbs to a minimum. Introducing layers of flavors is the key to any good meal. Fresh salsas, marinades, sauces, and condiments help turn what could be a boring, weeknight meal into a flavorful, happy dish.
Homemade staples can always be found lining our refrigerator shelves; ketchup, salad dressings, pasta sauce, jams, fruit soda mixtures, and this teriyaki sauce.
It's the perfect addition to simple, grilled chicken breast, Asian marinated skirt steak, and roasted salmon. Served with a side of oven baked brown rice and kale chips, no one leaves the table hungry!
Homemade Teriyaki Sauce
ingredients:
1/2 cup wheat free tamari
1/2 cup organic, cane sugar
1/2 teaspoon grated, fresh ginger
1 medium clove of garlic, passed through a garlic press
2 tablespoons mirin
1/2 teaspoon arrowroot
instructions:
In a small saucepan, combine the first four ingredients. Heat over a medium flame.
Whisk mirin and arrowroot until no lumps remain. Pour into saucepan and whisk to combine all ingredients. Bring sauce to a boil over high heat. Whisk and reduce heat to medium low and simmer until sauce reduces to 3/4 of a cup. The sauce will become like a syrupy glaze. Keep warm while you cook your protein.
Refrigerate and store in a glass jar for up to three weeks.
Susan Salzman writes The Urban Baker blog to explore her dedication to good food in the hope of adding beauty to the lives of her family and friends.