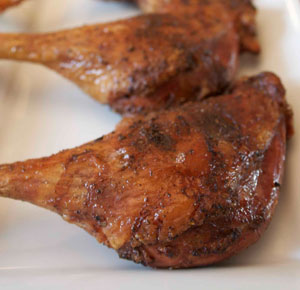 The first time I cooked duck, I was completely freaked out. "Duck!" seemed way too exotic, too odd, too French for me to deal with. Duck had too much tradition behind it. Chicken was my safe-zone fowl.

Anyway, I took the plunge and cooked a whole duck. It turned out...ok. There's all that fat to deal with and the fact that the whole bird is dark meat. After dozens of outings, I figured out how to cook duck, and, I have to say, duck is great. Taste-wise it's midway between chicken and beef, but better than either.

To the point: cooking a whole duck is an obligation. Cooking duck legs and thighs is a lot more normal. Think "chicken" and it won't seem so special, but the end result will be.

The duck we get comes from Vietnamese markets where the cost per pound averages $2.25. It's easy enough to buy a half dozen legs and thighs (they come together) and freeze them. The easy way to do that is to wash and pat dry each leg/thigh, lay it on a piece of plastic wrap, drizzle with olive oil on both sides and season with sea salt and black pepper. Place the individually wrapped duck leg/thighs into a ziploc bag, squeeze the air out, seal the bag, and the duck will stay fresh-tasting for months.

Duck Legs & Thighs with Winter Vegetables

One of those great comfort food recipes that works in cold or hot weather. The duck makes a "soup," so you can fill out the serving with a nice pasta like Zitti or Penne.

Yield: 4

Time: 90 minutes

Ingredients

4 duck leg/thighs
2 carrots, peeled, cut into thick rounds, then quartered
2 yams or sweet potatoes, peeled, cut into thick rounds, then quartered
10 Brussels sprouts, trim the bottoms, quarter
10 shitaki mushrooms, washed, cleaned, sliced
1/2 cup finely chopped Italian parsley
4 cloves garlic, peeled, finely chopped
10 shallots, peeled, halved
Olive oil
Sea salt
Freshly ground black pepper

Method

When you're ready to cook the duck, separate the thighs from the legs at the joint.

Heat 2 tablespoons of olive oil in a large Dutch oven or fry pan. Season the duck pieces with sea salt and black pepper, then sauté the duck until browned on all sides. Remove from the pan and drain on a plate with paper towels.

Pour off the duck fat into a container and save (freeze it if you aren't going to use it right away). Duck fat sells for $20/pint; don't waste it. Duck fat is magic.

Sauté the shitaki mushrooms until lightly browned on each side. Remove to a plate. Now saute the garlic, carrots, sweet potatoes, shallots, garlic, and parsley until lightly browned. Remove to a plate.

Put the duck back into the pan and cover with water. Put a lid on the pan and braise over a medium flame for 45 to 60 minutes, until the meat is tender and separates from the bone with a little pressure. Add back the mushrooms and vegetables and cook another 15 minutes, uncovered.

Adjust the seasoning with salt and pepper.

Serve as is or add a cup of cooked pasta for each plate.
David Latt is an Emmy-award winning television producer who turns to cooking to alleviate stress. He shares his experiences with food and his favorite recipes on his blog Men Who Like To Cook.