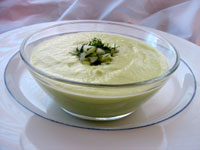 4 cups cucumber, peeled, seeded and cut into small, about 1-inch chunks (2 - 3 cucumbers)
1 cup avocado, peeled, pitted and mashed up (2 -3 avocados)
2/3 cup plain yogurt (nonfat is fine)
1/3 cup fresh lime juice (2 limes)
pinch sugar
pinch salt

1/4 cup cucumber diced for garnish
fresh herb of choice for garnish (dill, cilantro, mint, etc.)

Puree the cucumbers in a blender until completely smooth. Add the avocados, yogurt, lime juice and blend, blend, blend until silky smooth.

Chill thoroughly if not already cold, correct seasonings with salt and sugar. Serve each portion with a garnish of about one tablespoon of diced cucumber and minced herbs or a dollop of yogurt. Serves 4.
- Recipe courtesy of Amy Sherman