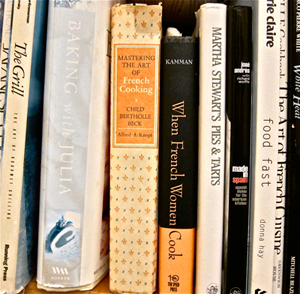 Mastering the Art of French Cooking was my first cookbook, a gift from a friend. This happened many years ago, but I remember how it happened in great detail.
At the time, I was friendly with a woman I was too intimidated to ask out. To get over my nervousness, I offered to cook her dinner, thinking I'd grill a steak and make a tossed green salad, but she loved Julia Child and wondered if I could cook something French. Figuring I would be a good sport, I agreed.
I had watched Julia on PBS and loved her idiosyncratic character. Her passion for cooking and food was infectious. French food seemed too complicated, something eaten in a restaurant, not at home.
Not having a copy of Mastering the Art of French Cooking, she loaned me hers. I decided on chicken with mustard ("Poulet grillé à la diable"). Why that one? I don't know, it sounded good.
I went shopping and came home with a grocery bag full of ingredients. The recipe was complicated and took all day to prepare. When my friend arrived at my apartment I proudly served her Poulet grillé à la diable. Problem was my fancy French dish tasted like a corn dog. I'm sure that I was at fault, not Julia.
From that experience, I discovered I liked being in the kitchen because it was relaxing. But that if I was going to cook, the recipes needed to be really simple, with the fewest steps and smallest number of ingredients as possible. No more spending all day with a complicated recipe that produced something that tasted like I'd bought it at a county fair.
As a present for making dinner, my friend generously gave me her copy of Mastering the Art of French Cooking.
As I write this, I realize that, even though I prefer a simpler way of cooking, I learned my love of cooking from two people, my mother and Julia Child and I'm happy to have the cookbook in my bookcase.
Pasta with Roasted Tomatoes and Parsley
The recipe takes very little effort and time but delivers big flavors.
Preparation time: 30 minutes
Cooking time: 60 minutes
Serves 4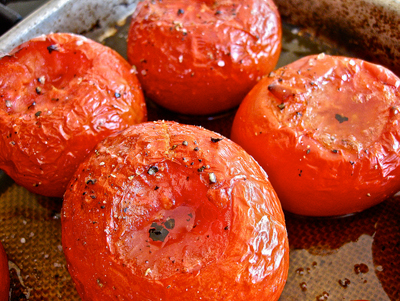 Ingredients
4 medium sized, ripe tomatoes, washed
4 cloves garlic, skins removed, finely chopped
1 bunch Italian parsley, leaves only, washed, pat dried, finely chopped
1 small, yellow onion, washed, skin and root end removed, roughly chopped
3 tablespoons olive oil
2 tablespoon sweet butter
Sea salt and black pepper
1 tablespoon Kosher salt
1 pound pasta, preferably DeCecco, spaghetti, penne, ziti, or gnocchi
Sea salt and pepper
Method
Preheat the oven to 400°F. Use a paring knife to cut out the stem part on the top of the tomato. Place the tomatoes on a Silpat or aluminum sheet on a baking sheet. Drizzle with 1 tablespoon olive oil. Season with sea salt and pepper. Put in the oven and roast for 45 minutes.
Remove and let cool to the touch. Pull off skins and discard. Using your fingers or a paring knife, pull apart the tomatoes in a large bowl, being careful to reserve all the liquid, including the clear liquid that accumulated on the baking sheet while cooking.
That clear liquid is delicious "essence" of tomato, full of flavor and good to use on pasta, salad, or baked fish.
While the tomatoes are roasting, boil a gallon of water with the Kosher salt. Add the pasta, stir well, and cook until al dente, about 10 minutes. Drain and reserve 1 cup pasta water. Return the pasta to the pot. Drizzle with 1 tablespoon olive oil and 1 tablespoon sweet butter. Stir well. Season with sea salt and pepper. Lay a sheet of aluminum foil over the top but do not seal. Set aside.
In a sauté pan, melt the remaining tablespoons of sweet butter and olive oil. Sauté the parsley, onion and garlic until lightly browned. Add the torn up roasted tomato and ½ cup of pasta water.
Reduce the sauce on medium high heat, tasting and seasoning with sea salt and pepper. After the sauce thickens, add the pasta. Toss well. If more liquid is needed, use the pasta water. Taste and adjust seasoning with sea salt and pepper.
Serve hot with freshly grated Parmesan cheese.
Variations
To the sauté add 1/2 cup finely chopped olives, pitted
To the sauté add 1/2 cup corn kernels
To the sauté add 1/4 teaspoon cayenne pepper
To the sauté add 1 cup grilled or raw shrimp, washed, peeled, deveined, roughly chopped
To the sauté add 1 cup grilled Italian sausage, roughly chopped
David Latt is an Emmy-award winning television producer who turns to cooking to alleviate stress. He shares his experiences with food and his favorite recipes on his blog Men Who Like To Cook.