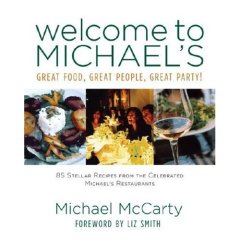 Disclaimer: I know Michael and Kim McCarty. I've eaten at the New York City restaurant, and the one in Santa Monica. I love them (the restaurants, and the people). If you're not familiar with either restaurant, it might help to know that the New York restaurant is the center of the media universe (in terms of eating, anyway). And the Santa Monica restaurant is the West coast equivalent.
To quote Harper Collins editor David Hershey (from the book): "Every generation has its literary feeding trough. In the twenties and the thirties, it was the Algonquin; in the forties and fifties, it was Toots Shor's; in the sixties, it was the Lion's Head; in the seventies and the eighties, it was Elaine's; and since the nineties, Michael's has been the place for media and publishing types to eat."
I read cookbooks like glossy magazines in a dental office: thumb through, check out the pictures, maybe flag a few things to look at on another day, and then on to the next. So it is a BIG DEAL for me to say I read WELCOME TO MICHAEL'S cover to cover. Not once, but twice. Part personal guide to enjoying the good life, part high school yearbook of the cool people (nearly every other page has a witty personal inscription by someone famous), and part cooking instruction manual, WELCOME TO MICHAEL'S turns out to be, like the two famed restaurants of the author, a hoot.
But here's the best part, the book works whether you know what you're doing in the kitchen (or think you do), or whether you're the kind of person who uses the refrigerator to store three kinds of mustard and your take-out containers. Written as an expression of a lifestyle choice which could be summed up to be: FIND THE HIGHEST QUALITY OF RAW INGREDIENTS POSSIBLE, AND THEN ESSENTIALLY STAY OUT OF THE WAY of their destiny. It is uncomplicated cooking with lots of grilling and lots of fresh herbs. It is very simple, but it is very sophisticated. It is, like most intriguing things, full of contradictions. And it was written by someone who clearly loves food and loves people, which is another way to say someone who loves life. Maybe that's what makes this cookbook so much fun.
The personality of Michael McCarty jumps off the page. He isn't just telling you how to make his tomato-basil vinaigrette (which he liberally advises us to use on grilled vegetables, fish, poultry and meat); he is telling us how to live. He takes the quality and tradition of European cooking, adds the optimism of self-creation in California, and the intellectual curiosity of Manhattan to make the magic. He knows the really good stuff -- food, wine, art -- and the value of people who value what he does. In WELCOME TO MICHAEL'S, he walks the reader through eleven chapters, which cover the basics as well as the intricacies of seafood, vegetables, breads, and cheese. He writes about breakfast, herbs, meat, dessert, and hors d'oeuvres.
If you're ambitious, you can take this book and cook yourself a four-course meal straight off the Michael's menu. If you're just starting out in the kitchen, you can master a few dishes to last a lifetime. And there are secrets. Michael makes his famed French fries from frozen ones! It turns out what makes them so delicious is the combination of the oil you cook them in and the seasoning. And there's more: he uses frozen puff pastry in his apple tart recipe! Bisquick in his pancake recipe! He makes his own ice cream to serve at the restaurant, but admits that his favorite dessert to serve at home is Haagen-Dazs with Pepperidge Farm Milano cookies and chocolate sauce. It is inspiring.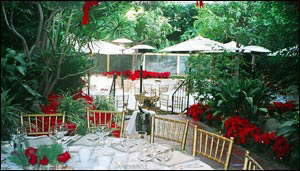 Or as Michael McCarty would say: TASTY! WELCOME TO MICHAEL'S.


WALNUT BREAD
(makes one 11 1/2 inch loaf)

Toasted Walnut bread with raisins added is an
excellent partner for cheese. Without raisins, bread
is amazing when toasted and served with soft butter
and oysters on the half shell. It makes a great base
for hors d'oeuvres.

3 and 1/3 cups (1 pound) all-purpose FLOUR
2 and 1/4 cups (1/2 pound) RYE FLOUR
3/4 ounce fresh YEAST
3/4 cup plus 2 tablespoons WATER
1/4 cup MILK
1 tablespoon plus 1/4 teaspoon SUGAR
1 tablespoon plus 1/4 teaspoon SEA SALT
1 and 3/4 cups coarsely broken WALNUTS
1 cup RAISINS (optional)
1/2 cup MALT SYRUP (NOTE: Malt Syrup, also called malt extract, is a natural sweetener that is available from health food and baking supple stores. If you can't find it, use an equal mix of honey and molasses. If you are doing this, adjust the amount down to 1/3 cup.)
4 and 1/2 tablespoons melted salted BUTTER

Combine the white and the rye FLOURS. Set aside.

Place the yeast in the bowl of a standing mixer fitted with a dough hook.

Combine the water and the milk in a small saucepan over medium heat and bring to 115 degrees F on an instant-read thermometer. Immediately remove from the heat.

Add this hot liquid to the yeast, stirring to dissolve yeast.

Turn the mixer to LOW SPEED and begin adding the flour mix along with the sugar and the salt, processing until just blended. Add the WALNUTS and raisins (if you are using raisins) mixing on low to incorporate. Add the malt syrup and mix just to incorporate. Remove the bowl from the mixer and using a spatula, scrape the dough down from the sides to make a neat round. Cover with a kitchen towel and place in a warm, dry spot to rest for about 1 hour or until doubled in volume. Uncover, and using your fingertips, punch down the dough. Re-cover and again set in a warm, dry spot to rest for about 45 minutes or until doubled in volume. Preheat the oven to 350°F.

Lightly coat the inside of a 12 by 4 1/2 by 3 inch loaf PAN with about 2 tablespoons of melted BUTTER. Set aside.

Scrape the dough from the bowl and form it into a log shape that will fit into the prepared pan and transfer the dough to the pan. The bread should have a rustic, rough finish.

Place in the preheated oven and bake for about 30 minutes. Remove from the oven and, using a pastry brush, generously coat the top of the dough with the remaining butter. Return to the oven and bake for an additional 30 minutes or until the top is golden brown and a cake tester inserted into the center comes out clean.

Remove from oven and invert onto a wire rack to cool before serving. When ready to serve, cut crosswise into slices about 3/8 of an inch thick.
WELCOME TO MICHAEL'S

Michael McCarty with Judith Choate
Foreword by Liz Smith
Little Brown and Company
First Edition: October 2007
Holly Goldberg Sloan is a writer/director of family films. She wrote "Angels in the Outfield,", "Made in America", "The Big Green", "The Crocodile Hunter Movie" and the soon to be finished "Heidi 4 Paws". Cooking, she believes, is like writing. It's good to start with a solid plan, and then be willing to go with the flow.