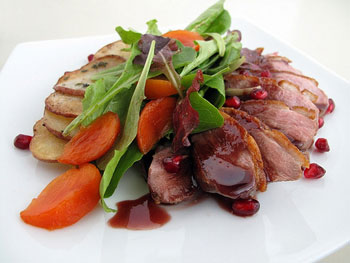 Growing up eating roast duck often, especially during holidays, stoked my love for all things duck. Foie gras, pâté, or duck confit, I love it all. It's a rich food in more ways than one. But for the holidays it's worth a little splurge. Most of my family's Thanksgivings were always about the juicy roast duck and not the dry turkey. As the years passed we've held to American tradition and dined on turkey for Thanksgiving, but we always have duck on Christmas day. Roasting is a great technique, but sometimes the breast tends to get dry since it cooks faster. I find the best way to cook it is by searing, which renders all the fat and crisps the skin, leaving behind a very flavorful, medium-rare cut of meat. Any steak lover would be pleased with the result. Plus searing is a fast and simple technique that does not have to be limited to holidays.

Duck always pairs well with something sweet, tart, tannic, and astringent. All of those lip-smacking aspects work to cut the richness of the duck. A good tart, tannic wine is also a must. But I knew I had the perfect pairing in pomegranate juice, pressed from the jewels or arils of pomegranates. The red, hexagonal pod fruit is readily available in the markets in the winter season. I had already been planning on developing a recipe to feature this duck-pomegranate pairing when POM Wonderful contacted me to see if I was interested in taking up a challenge of cooking with their juice. I agreed and was sent a box of juice bottles to experiment with. From that juice I was able to create the feature sauce and a complementary vinaigrette for the salad.
What I call the jus is a reduction made from the pomegranate juice along with stock and Port wine. It makes the perfect sauce to spoon over the succulent slices of pink breast. The salad is dressed with a vinaigrette that includes a touch of the tart juice. The salad is made even more interesting with the inclusion of persimmons, which are orange in color and shaped like either tomatoes or peppers. Fuyu persimmons—the tomato-shaped variety—are the most widely available in the winter season. Hachiya—the pepper-shaped ones—can also be found, but they are more astringent than Fuyu. Since they are in season right now, I could not give up the opportunity of using them in this dish. When ripe, persimmons taste mellow and nectar-like with a melon texture. To complete the meal, I add crisp potatoes for a contrast in textures. Sliced very thinly and baked, they almost resemble potato chips. Enjoy this elegant restaurant-style meal at home for a holiday meal, a special occasion, or any reason.

Opening a pomegranate can be easy if done correctly. Score the blossom end with a deep X and pry apart as much as possible. Hold the pomegranate cut side down over a large bowl with water and beat the pod with a wooden spoon. The arils will sink to the bottom and the pulp and papery covering will float to the top. Skim to remove the floaters and drain the arils.
Duck Breasts with Pomegranate Jus, Persimmon Salad, and Crispy Thyme Potatoes

Tip: Start the sauce about 20 minutes ahead of any other part of the recipe or prepare it in advance.

for pomegranate jus:
olive oil
1 small shallot, minced
1/2 teaspoon fine sea salt
5 juniper berries, crushed
1 cup chicken stock
1 cup pomegranate juice
1 cup sweet red wine such as Port or Madeira

for persimmon salad:
2 Fuyu persimmons
12 ounces mixed baby greens
3 tablespoons extra-virgin olive oil
2 tablespoons sherry vinegar
1 tablespoon pomegranate juice
1/2 teaspoon Dijon mustard
fine sea salt
freshly ground black pepper

for crispy thyme potatoes:
4 to 6 medium red potatoes, sliced 1/4-inch thick
olive oil
fine sea salt
freshly ground black pepper
6 sprigs fresh thyme

for pan-seared duck breasts:
canola oil
4 duck breasts
fine sea salt
freshly ground black pepper
1/4 cup pomegranate arils, for garnish

To make pomegranate jus, warm oil in a saucepan set over medium heat. Add shallots and cook until caramel in color, about 10 minutes. Season with salt. Add crushed juniper berries and toast for 1 minute. Pour in stock, pomegranate juice, and wine. Lower heat to simmer and cook until syrupy and reduced to 1/2 cup, about 30 minutes.

To make salad, wash persimmons and remove core by pulling leaves. Peel skin using a sharp knife. Slice into thin wedges. Wash salad greens thoroughly and spin dry.

In large bowl make the vinaigrette by whisking together the oil, vinegar, pomegranate juice, mustard, salt, and pepper. Add the salad greens and toss at last minute before serving. Top salad with persimmon wedges.

Preheat oven to 375 degrees F.

To make crispy thyme potatoes, toss potatoes in oil on a rimmed baking sheet. Season with salt and pepper. Strip thyme sprigs and sprinkle leaves over potatoes. Bake until golden brown, about 15 to 20 minutes. Using a metal spatula, flip the potatoes halfway through the cooking time to crisp both sides.

Reduce oven to 350 degrees F.

To make pan-seared suck breasts, warm oil in a large skillet set over high heat. Pat duck breasts dry with paper towels. Using a very sharp knife or razor blade, score the skin diagonally like a checkerboard. Liberally season both sides of the breasts with salt and pepper.

Once the oil is shimmering, add duck breasts skin side down. Do not move the breasts. Sear until all fat has rendered and skin is crisp, about 5 minutes. Turn the breasts over and sear meat side for an additional 5 minutes.

Place skillet in oven and let breasts cook through until the desired doneness is reached. For medium rare, an instant-read thermometer when inserted into the thickest part of the meat should read 130 degrees F. Allow the duck to rest for 10 minutes tented with aluminum foil before serving. Once rested, the internal temperature will reach 140 degrees F.

Cut each breast diagonally into 1/4-inch slices and arrange on plate. Drizzle with pomegranate jus. Stack potato slices on side of plate. Add a heap of salad with persimmons to the center of plate. Sprinkle with pomegranate arils. Yield: 4 servings.
Joseph Erdos is a New York–based writer and editor, but above all a gastronomer and oenophile. He shares his passion for food on his blog, Gastronomer's Guide , which features unique recipes and restaurant reviews among many other musings on the all-encompassing topic of food.