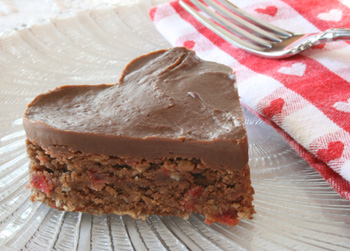 1 (16-ounce) jar maraschino cherries, drained
2/3 cup butter
1/2 cup semisweet morsels
1½ cups all-purpose flour
1 teaspoon baking powder
1/4 teaspoon salt
3/4 cup quick-cooking oats, uncooked
1 cup sugar
2 large eggs, beaten
1 teaspoon vanilla extract
2 teaspoons reserved cherry juice
Preheat oven to 350 degrees. Butter a 9- x 13-inch baking pan. Line with parchment, allowing enough of the paper so it comes up out of the sides of the pan. Butter the bottom of the parchment paper.
If you plan to use some cherries for garnish, reserve a few and set aside. Chop remaining cherries and set aside.
Melt butter in a small heavy saucepan. Remove from heat and add chocolate morsels. Stir mixture until chocolate is melted. Let cool slightly.
Sift flour, baking powdeer and salt into a bowl. Stir in oats.
Mix sugar, eggs and vanilla in a large mixing bowl. Add melted chocolate mixture and stir to blend. Add flour mixture to bowl. Use electric mixer at low speed, beating until blended.
Bake in preheated 350-degree oven for about 25 minutes, or until wooden pick inserted in center comes out clean. Cool in pan on wire rack. When completely cool, hold parchment paper and gently pull the brownies out of the pan. Place on work surface.
Pour fudge frosting over the brownies. Allow frosting to set at room temperature until firm.
When frosting is set, use cookie cutter to cut heart shapes from the frosted brownies. Garnish each heart with a cherry half, if desired. The brownies are good served with Sweet and Rummy Whipped Cream.
Fudge Frosting
* 6 tablespoons butter
* 6 tablespoons milk
* 1 1/2 cups granulated sugar
* 1 1/2 cups semisweet chocolate morsels
Combine butter, milk and sugar in small saucepan. Bring to a boil and boil for 30 seconds. Remove from heat and stir in chocolate morsels. Beat with spoon until creamy. Pour over brownies and allow to set.
- Courtesy of Sue Doeden