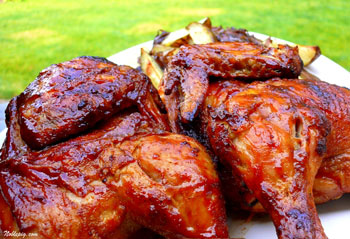 For the Dry Rub:
1 Tablespoon seasoning salt, any brand
1 teaspoon paprika
1/2 teaspoon kosher salt
1/4 teaspoon onion powder
1/4 teaspoon chile powder
1/8 teaspoon ground black pepper
1/8 teaspoon ground turmeric
1/8 teaspoon garlic powder
1/8 teaspoon ground cumin

For the Basting Sauce:

1/2 cup apple cider vinegar
1 Tablespoon oil (I used a roasted garlic olive oil but any kind is fine)
1/2 teaspoon kosher salt
1/4 teaspoon turmeric
Juice of one lemon
One drop liquid smoke, optional (no more than a drop, it's concentrated)

Other Ingredients:

One 4 lb. split-fryer chicken (or one whole chicken cut in half)
Your favorite grilling sauce

First, I always buy a split fryer, a whole chicken that has been cut in half. I never grill different sized, individual pieces, it's too difficult to vary the cooking times and the pieces dry out too easily. Forget them. A split fryer is the answer to your grilling prayers or buy a whole chicken and cut it in half yourself.

Next, make a dry rub. You do not want a dry rub with sugar in the list of ingredients. It will burn. The dry rub should be spread on the chicken, under and on top of the skin and in every nook and cranny. Do this three hours prior to grilling.

Also, bring the chicken to room temperature. You do not want to put iced cold chicken on the grill. Trust me.

Preheat the grill to very high heat, about 500 degrees. I then turn the middle burner completely off and place the chicken in there while lowering the other two burners, bringing the temperature to 350 degrees.

Next, baste the chicken and close the grill. Set a timer for 15 minutes.

After 15 minutes turn the chicken over and baste again. Repeat this step every 15 minutes for a total of one hour. At the last basting, let the chicken cook for only five minutes more.

Using your favorite grilling sauce, baste both sides of the chicken.

After basting with the sauce close the grill and cook for only five minutes. Not longer, this is when the chicken will burn. Make sure you have washed your baster or are using a new one to prevent any contamination from residual raw chicken.

Let the chicken rest for at least five minutes before cutting into it.
- Recipe courtesy of Cathy Pollak