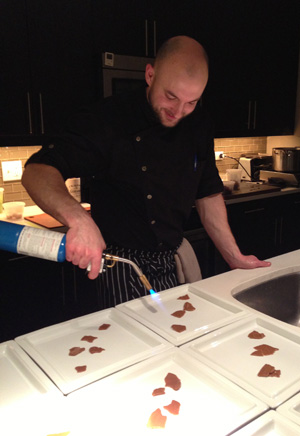 Underground dinners. Do you know about them? Probably. I'm new to this: paprika still confuses me.
I first heard of this scene when eating at Elizabeth --an up and coming Chicago "farm to table" restaurant -- and learning that Chef/Owner Iliana Regan got her start in the underground restaurant world.
Call me fascinated, because her food was so good (e.g. stop what you're doing and try the carrot tea) that I found her by the bathroom and told her that her meal was the best I'd ever eaten. So that happened.
Being the daughter of a scientist, I took a very methodical approach to this whole underground thing. New Years day I set a goal to eat a secret dinner in 2013. I researched. Mastered back alley handshakes with dish boys. Nodded slowly and maintained uncomfortably long eye contact with sommeliers. Folded response notes into my fortune cookies. Got on some e-mail lists. You get the picture.
Which brings us to Sous Rising. Chef Jake Bickelhaupt has worked in famous kitchens around Chicago -- Alinea, Charlie Trotter's, Schwa. Now on Friday and Saturday nights, he and his charming wife Alexa open up their home to 8-10 guests, where he works his magic.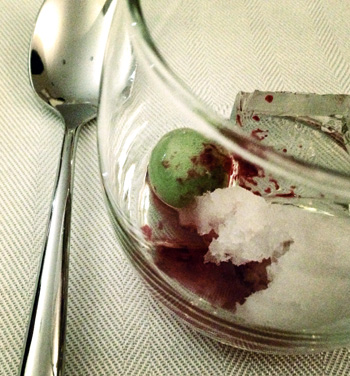 One day before dinner you receive an e-mail with the location and 12-course BYO (bring your own alcohol) menu with pairing suggestions. He suggests starting the meal with white wine and finishing with red (which we did), split by a beer course of "dancing mushrooms", black garlic, and kumquat paired with Estrella Damm - a Catalan pilsner that took me right back to the cobbled streets of Barcelona. (We donated our extra Estrellas to the house).
When food makes me close my eyes, it's a good sign. All of the courses were good -- surprising and delightful to the eye, and combining unusual flavors to tell some sort of story. Some of them I will remember for a long time.
The first course -- "Kiwano", with jellied gin, tasted like an adult rosy gobstopper exploding in my mouth. Strong start. Jake handcrafted the tiny potato chips that accompanied a silky fingerling potato soup that ended far too soon.
My friend Rachel's favorite was Jake's comfort dish, "Winter Corn" -- corn in three ways, with an egg yolk you get to drop on top yourself (points for fun.) Then again, each subsequent course that came out was Rachel's favorite -- like the duck with hedgehog mushroom and black truffle, or the deconstructed carrot cake: lemon, chamomile, white chocolate and pistachio laid out in swirls.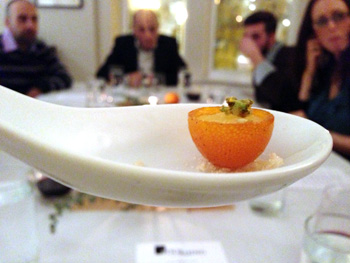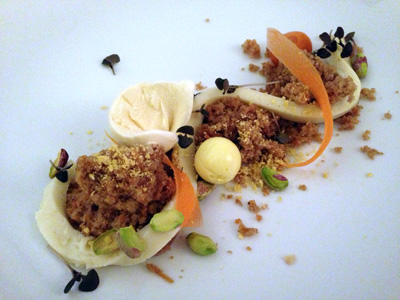 What was particularly fun about the Sous Rising meal, was witnessing an artist at work -- unencumbered by the reputation or style of a restaurant. He was in his home and he could cook how he wanted. As he was just over the counter, our table of 9 friendly and eclectic diners conversed with him throughout the meal.
"Jake, tell us why this beet tastes so good."
"Oh, I work on those for 24 hours. I cook them in this and then in something else." (Not a real quote.)
He actually told us what he did with the beets, but I didn't retain the information because I will never cook a beet for 24 hours.
Jake: your beets are beautiful. So is your wife. I wish you many happy secret dinners.
Jessica Dixon manages a physician practice in Chicago. In her spare time she pursues aged goudas and adventures.