You'd think stuffing myself with Chinese food in Richmond would cause me to throw in the towel. No way. After a quick trip into Vancouver I was ready to jump into my tour of the Vancouver food cart scene with Michelle Ng, the founder of Foodie Tour. I could not have been in better hands on a rainy and extremely chilly day. Luckily, the amazing cuisine warmed me up as did the excellent company.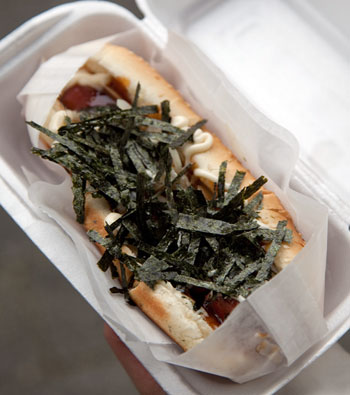 Vancouver has taken a very proactive approach in the establishment of food carts, issuing annual licenses on a limited basis. Each year only a small amount of trucks are introduced after an extensive evaluation process, with vendor vying for space and permits to sell their food. The hopes are that in a few years there will be dozens and dozens of more mobile places to eat, but the city is in no rush to get there. Quality and control is paramount, even if it does create a few bottlenecks in the process. Those lucky enough to be selected hold the privilege in high esteem and it's this dedication that translates to customers.
Our first stop with Michelle was at Japadog, a Vancouver institution that is now legendary. Put the Western hotdog with Japanese ingredients and out comes the Japadog, something that I can definitely support. Our hotdog had Japanese mayo and nori and was pure heaven. Pace yourself, I said, we have several more places to eat. But I didn't want to. I wanted to try them all.
Our second stop was at Soho Road, and I shall tell you this: easily my favorite stop of the tour, hands down. I'm not sure if it was owner Sarb Mund's jovial smile, the warm cup of chai on the rainy day, or the tandoor oven inside his truck that was busy firing naan and chicken.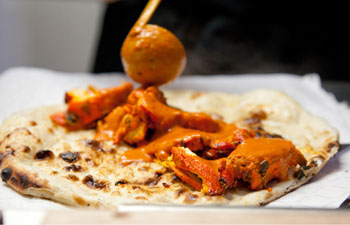 I've never seen a moveable tandoor, let alone inside a truck, and marveled as I watched skewered meat hang and cook, followed by naan dough as it cooked by sticking alongside the clay oven's walls.
He only serves a few things, but those few things are done exceptionally well, if not perfect. Yea, I'll say they were perfect.
The Butter Chicken Naan was heavenly, perfectly spiced and tender, with scoops of chopped cucumber and onion for contrast. Rolled up and served, this was perfect street food. Soho Road is on my list of places to immediately return to. Thank you, Sarb!
Our third stop of the day was at Finest At Sea, a food cart that specializes in wild caught seafood. Finest at Sea's cart is an offshoot of their retail establishment, in business since 1977. We tasted a Curried Halibut, Eggplant & Coleslaw Naan Wrap and washed it down with Green Tea with Ginger and Lime. You couldn't have fresher, more exhilarating flavors if you tried. Absolutely spectacular.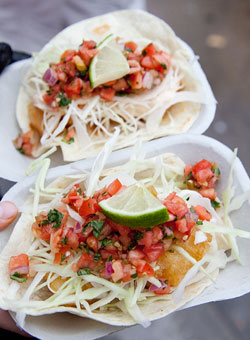 The last on our stop was Tacofino, a favorite of locals who never shied away from sharing their faves. I'm going to admit that I was a weeeeeeeeeee bit incredulous about trying a taco so far from home, especially a Baja-style fish taco.
Up until this point nothing in Vancouver has been less than amazing, would Tacofino be the first to disappoint? You'll be happy to know that I can say "ABSOLUTELY NOT." Crispy battered cod with a delicious tempura coating, chipotle mayo, shredded cabbage and salsa fresca on a tortilla met with complete approval from this man.
It was exactly what a fish taco should be, minus the chilly rain that was pouring down. I can forgive you for that, Vancouver.
Sadly to say I missed the tasting of the Chocolate Diablo Cookie as I was completely stuffed and just couldn't take one more bite but apparently it's a favorite, too.
For more information on Michelle's Foodie Tour please visit www.foodietour.ca. Public tours are available from April through November, with private tours available year round for 4 or more guests. Michelle's twitter is here and her facebook is here.
Matt Armendariz is a writer and photographer who lives in Los Angeles and chronicles his passion for food and travel on his blog MattBites. His latest book is "On a Stick!"