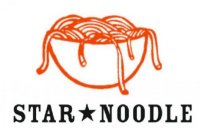 There's a ridiculously good restaurant on Maui – Lahaina's Star Noodle, which sits up on the mountain over looking the town. I'm afraid we went there three times (and would have gone more had we not restrained ourselves); once after arriving at the airport, once for dinner and once on the way home.
Imagine something like London's Wagamama or New York's Momofuku on a smaller scale – a deliciously modern, light space, filled with knowledgeable, kind people (props to Justin and Zane) and some of the best Asian food we've ever tasted.
The menu ranges from ramen to local saiman (local noodles with spam, fish cake and green onion in a delicious broth) to Vietnamese pancakes to spicy pickled vegetables (namasu) to yuzu sorbet to tiny donuts on sticks (malasadas) with three dipping sauces.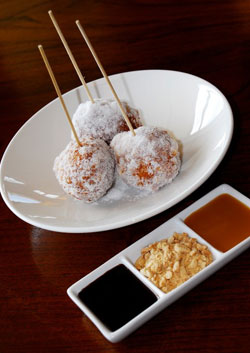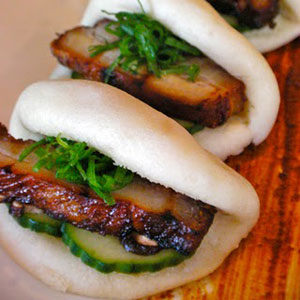 But the highlight of this very reasonably priced restaurant was the steamed pork buns. The buns are two bites of soft bao-like bread stuffed with sweet roast belly pork, cucumber, a few green onions and hoisin sauce, served with hoisin and spiced Chinese mustard. It's a Maui must.
Star Noodle
286 Kupuohi St.
Lahaina, HI 96761
(808) 667-5400
Bumble Ward is a blogger and writer living in Los Angeles. She grew up with a Norwegian mother and an English father and spent every summer on an island in the Oslo fjord. www.misswhistle.com