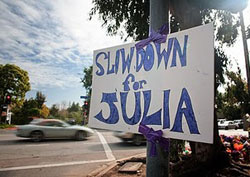 Every Wednesday evening, I drive down Sunset Boulevard towards the beach. Now that it's summertime, the sun can almost blind you; it hangs low and bright in the sky to the west. There's a certain release and relief you feel driving towards the ocean. You can see the sun glinting off it as you round the wide curves of the road. Gardens are full of roses and apple trees. Kids are riding bikes, walking dogs.
I was listening to Sam Cooke with the windows down, the warm air blowing around, when I passed the traffic light at Cliffwood where an enormous shrine has been set up. Banks of flowers and candles, mostly flowers now, some in long planting boxes that you might put outside your front door, mark the spot where a little girl was killed earlier this year, as she crossed the road to get the school bus. She was 13 and as she ran across the road to get the school bus, in full view of her mother and her schoolmates, she was struck by two cars.
It's odd, but every week I forget it's there, and every week I find myself choked up as I pass it. It could have been any of our children, I have to remind myself. The pain her parents are experiencing is impossible to imagine, but it makes me happy that the flowers are still there, that people still come every week with more, that people still visit, and that every time a car drives by that spot, they are reminded just for a moment, how fleeting life is.

(A lovely page has been set up for Julia's friends to write letters to her)

It might be wise to hug your children every day and tell them, again, how much you love them.
Bumble Ward is a blogger and writer living in Los Angeles. She grew up with a Norwegian mother and an English father and spent every summer on an island in the Oslo fjord. www.misswhistle.com