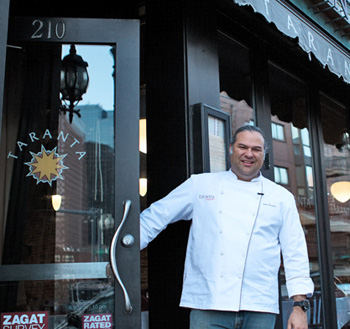 It's 100 degrees. There's Dead concert traffic choking the five o'clock crawl. We cross five lanes from Faneuil Hall to the North End to find a bad, as in not good, DJ holding forth at the Hanover Street fountain. Oh, for some peace and wow-ing.
With apologies to the chef, Gilbert & Sullivan, we find Taranta rah-worthy. Chef José Duarte was born in Peru, and moved with his family to Venezuela where he attended Universidad Nueva Esparta in Caracas. After earning an MBA in food service operations, Duarte opened Taranta in 2000.
Melding Italian and Peruvian flavors is new to us. We check online and it turns out that cilantro, huacatay (black mint), yerba buena (mint), albahaca (basil), orégano, paico (epazote), muña (mint), chincho (an aromatic herb), and aji panca peppers (of which there are 200 varieties) give Peruvian dishes their distinctive, addicting flavors.
We're sitting on the first of Taranta's three floors in a small storefront. From how the exposed bricks are angled, it's clear this is a very old structure. Julie starts with Emiliana Pinot Grigio that's tart, dry and as she discovers later, a perfect go-with for Duarte's roasted tomatoes, mussels, shallots and mushrooms.
Her pasta, formally known as fusilli avellinesi al cartoccio, is baked in parchment with simmering onions, pancetta Abruzzese, roasted tomatoes and smoked sweet peppers. The server delivering her plate gently opens the paper and steam hits us memorably full on. Is that cheese grounding the smokiness? I don't think she's ever raved about anything the way she is loving this fusilli. Next time, it's mine.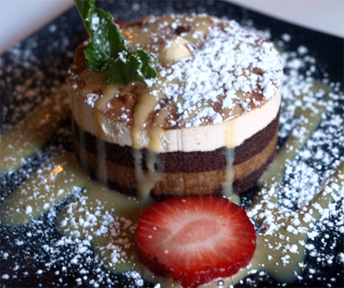 I choose Sicilian Marsala pan-roasted mussels with balsamic shallots, pancetta, mushrooms and onions. The sauce is rich with dark peppery mussel broth. Not a mussel fan? This dish could change your opinion. Amazing: mussels not smothered in garlic and red sauce. We down both bowls sopping with big chunks of bread as we go.
Our server is Mila and she's our cuisine advisor. She's knows food well enough to be in the kitchen. When friends ask her where they should eat and it's her day off, she wants to come here.
When we're up to dessert, her unequivocal pick is the hazelnut mousse ganache. She is so right: it's creamy, chocolatey and whoever drizzled dulce de leche on it shot my calorie intake for the week. Thanks a lot!
Taranta
210 Hanover Street
Boston, MA (North End)
617. 720. 0052
Kitty Kaufman is a Boston writer at http://www.corp-edge.com.