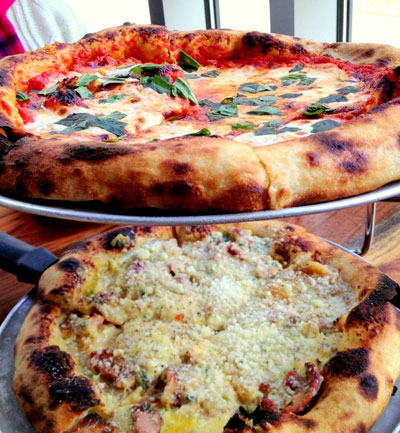 It's inauguration Monday. Neither bison nor lobster's on our Cambridge menu but we're celebrating. The first place is "not doing lunch today," so around the corner we go to the second where I'm greeted, "Do you have a reservation?" It's 11:30 and if I'd brought a cannon we could set it off. Wisely, we move on next door to Area Four: bakery, bar and restaurant. Le bébé's eyes light up. Ours too.
It's busy. We opt for pulled pork and two pizzas. The pork sandwich comes piled high with arugula on a soft bun you scrunch to inhale with special sauce. Best of all, the pickles, peppers and pearl onion side is delivered in a cast iron frying pan that's all of two inches wide.
Damnath's thick-crusted carbonara arrives with onions, provolone, chunky bacon and eggs. Whoever said you could pile bacon on anything? I did. We don't know how they do it but this creamy, slurpy topping steals our hearts. The margherita, with plenty of sauce and for once, enough basil, is tomato tangy without a sniff of boredom. Other zippy pies rotate: puttanesca, pepperoni, pepper and sausage, bacon and clam, mushroom with fontina, gorgonzola with onion, and carnivore with pepperoni, sausage and bacon. More beer, please.
We sit at a communal table in the airy space overlooking Main Street and a courtyard that will be lush once the snow melts. An open kitchen affords a touch of informal. The blackboard lists fun facts: Elias Howe's sewing machine was invented nearby in 1876 and Junior Mints are still being cranked out down the street. The bakery opens at 7 and I imagine their coffee propels you right through lunch. If you're still here, smart servers will bring pizza right into the bakery. I'm wishing my office was upstairs.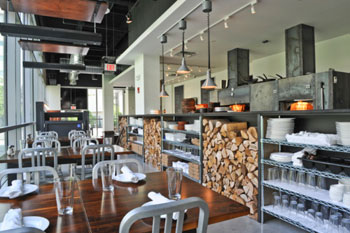 The bar starts with beer slanting local: Slumbrew Happy Sol (MA), CBC Big Man IPA (MA), Allagash Black Belgian Stout (ME), Smuttynose Winter Ale (NH), Tap Sassy Rabbit (MA), Idle Hands Pandora (MA). Wines are eco-friendly on tap: Adami prosecco, New York Empire Riesling, Silvertap Zin from CA, New York North Fork Blend, Ross Chardonnay, and Guintrandy Rhone from France. Thirty whiskeys and cocktails come with a dash of wicked: Rhubarbie doll, Just dill with it, Italian babysitter, White boy Manhattan, Dark and stormier, the Sazerac, and Donkey show with tequila, Campari and grapefruit. With those malts, they won't be known as a wine bar and that's fine. If I lived here, I'd be home now.
This part of Cambridge, Kendall Square, was once a collection of empty lots and abandoned buildings. One day in another lifetime we were looking for a die maker. I got out of the car and went to open the door on a rickety building. It was just a shell and beyond the door there was nothing. My brother laughed his head off. Some time later, Michael Feinstein came to the MIT bookstore in celebration of a new album. It's before he was Michael Feinstein and what he did was play a grand piano outside in the courtyard to an audience of five. It's before Area Four, Legal, before EVOO and Tatte, the Marriott, the movie theatre, and way before MIT sued Frank Gehry over the Stata Center's flaws.
Area Four is pure Cambridge: comfortable, affordable and unpretentiously chic in a way that will make you feel smarter than you are.
Area Four
300 Technology Square
Cambridge, MA 02139
617. 758. 4444

Kitty Kaufman is a Boston writer. You can read about her food adventures at Corporate Edge.