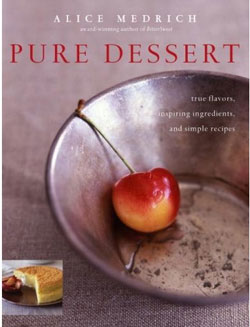 I've said it before, but I'm in awe of Alice Medrich. She was an early chocolate evangelist in the Bay Area, who brought us luscious desserts and truffles, inspired by what she had tasted and learned in France. Over the past few years she has written several terrific and award-winning books on chocolate including Bittersweet, Chocolate and the Art of Low-Fat Desserts, and Chocolate Holidays.

Her latest book is a bit of a departure, it's not just about chocolate, but an exploration into the world of high quality ingredients. The chapters in Pure Dessert are focused on the flavors of Milk, Grain, Nuts and Seeds, Fruit, Chocolate, Honey and Sugar, Herbs and Spices, Flowers and Herbs, and Wine, Beer and Spirits. Intriguing, don't you think?

In each chapter is a discussion of the ingredients, the flavors and where they can take you. Best of all are the recipes, which are very simple, in part to highlight flavors and not confuse your palate. It's a celebration of the nuances that contribute to the flavors we love. Medrich is a true perfectionist with an almost scientific like approach, so you are unlikely to ever have trouble with one of her recipes. In this season of too much frosting, sprinkles and fluff, this book is refreshing. Recipes include, Cardamom Roasted Figs, Corn Tuiles with Salt and Pepper, Blackberry Buttermilk Sherbet, Hazelnut Whole Wheat Sables, White Chocolate Souffle Cakes with Chocolate Orange Sauce, and Guinness Ice Cream.
Buy Pure Dessert
This is from Amy Sherman's blog Cooking With Amy