Laura C. Martin wants you to have your cake and eat it, too. That is, only if it's baked with all-natural, preferably locally sourced ingredients. Think it can't be done? Martin proves it can in her new book, Green Market Baking Book: 100 Delicious Recipes for Naturally Sweet & Savory Treats
.

The recipes, some created by Martin and others by influential chefs and food writers including Alice Waters and Dan Barber, are made with all-natural, organic, sustainable ingredients. Refined sugar is out. Brown rice syrup, agave nectar, and barley malt syrup are in. White flour is used, but many recipes suggest substituting at least part of the flour with whole-grain alternatives such as rye or spelt.

This is the type of the cookbook that you really must peruse first before delving right into a recipe. Otherwise, you'll likely find that you don't have many of the listed ingredients in your pantry. Here's where Martin helps: In the book's opening, she explains unfamiliar ingredients, suggests sugar substitutions, provides guidelines for using oils and dairy in baked goods and even tells you how to stock your pantry.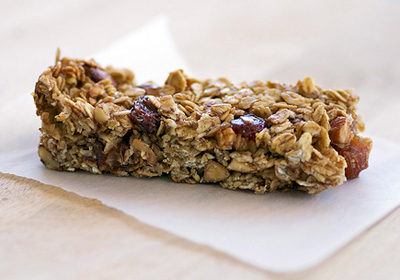 Once you've prepped, you'll be ready to bake. Recipes include beloved classics such as Traditional Chocolate Chip Cookies and Pumpkin Pie as well as fresh faces including Fig and Blueberry Scones and Peach and Nectarine Upside-Down Cake. Among the book's many tarts, pies, cookies, cakes, puddings and breads, you'll discover several dairy and gluten-free as well as vegan and low-fat options.

Readers will be glad to know that the recipes are clearly written and divided according to season. However, visual readers will be disappointed that there are no photos. Instead, Martin's lovely watercolors grace many of the book's pages.

So whether you're trying to "green" your kitchen, make a smaller carbon footprint or simply try some new recipes, The Green Market Baking Book, is definitely a worthy purchase.
Gluten-Free Energy Bars by Rebecca Wood
Makes 8 bars
These gluten-free energy bars are the perfect post-exercise snack -- they're chock-full of "good" carbs and lean protein and taste great. Feel free to adapt ingredients to suit your personal preferences. For one batch, I used oats and red flame raisins then tried oats, dried cherries and pistachios in another. Both were delicious.
1/4 cup (1/2 stick) unsalted butter, plus additional for greasing pan
1 cup raisins
1/4 cup apple juice, milk, or water (I used water)
2 teaspoons vanilla extract
2 1/4 cups oat, rye, or quinoa flakes (I used rolled oats)
1 cup chopped nuts (I used half almonds and half walnuts)
2 teaspoons cinnamon
1/2 teaspoon sea salt
2 eggs, lightly whisked
1/3 cup honey
1. Preheat oven to 350 F. Light butter an 8X8-inch-pan, or line it with parchment paper.
2. Place the raisins in a small bowl and stir in the apple juice (or other liquid) and vanilla extract. Set the bowl aside for 20 minutes to allow the raisins to plump.
3. Melt the butter in a large saute pan over medium heat. Add the flakes and nuts and sauté, stirring constantly, for 3 to 4 minutes, or until the nuts are aromatic and a shade darker. Stir in the cinnamon and salt and saute for an additional minute. Pour the contents into a large bowl.
4. Stir the eggs and honey into the raisin mixture. Pour the wet ingredients into the dry ingredients and stir until uniformly blended.
5. Spread the mixture into the prepared pan and bake for 30 minutes, or until golden and pulling away for the edge of the pan. Invert onto a rack to cool. Cut into bars. The energy bars will keep for 1 week.
Susan Russo is a free lance food writer in San Diego, California. She publishes stories, recipes, and photos on her cooking blog, <Food Blogga and is a regular contributor to NPR's <Kitchen Window. She is also the author of Recipes Every Man Should Know
and The Encyclopedia of Sandwiches
.