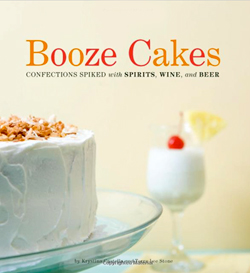 What would the holiday season be without desserts? And booze? Fortunately, the sassy ladies behind the spirited cookbook Booze Cakes
have got ya covered. Authors Krystina Castella and Terry Lee Stone have created the ultimate fun baking book with over 100 bodacious, boozy confections.

The book is divided into four sections:
1. Classic Booze Cakes such as English Trifle and Tipsy Tiramisu.
2. Cocktail Cakes such as Pumpkin Martini Cakes and Tequila Sunrise Cake.
3. Cake Shots including Rum & Coke and Screwdriver Shots.
4. Cakes with a Twist such as Black Jack Praline Cake and Rosemary Limoncello Cake.
Castella and Stone are girls who want to have fun, and they want you to have fun too. That's why they include helpful icons for special occasion cakes and a cheeky "Booze Meter" that rates cakes as "Lightweight," "Feeling It," or "Totally Tipsy." (In case you're wondering, I picked a "Totally Tipsy" cake.)
In the midst of all this merriment, Castella and Stone actually teach you about baking with alcohol and share quirky anecdotes and historical facts. Did you know ancient Egyptians drank beer? Or that booze doesn't simply evaporate in the oven? Or that you should never attempt to use a Kitchen-Aid mixer while downing rum?

Perhaps their best piece of advice is this: Relax and have fun.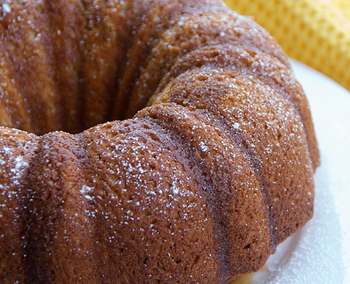 Golden Rum Cake
Makes 10 servings
Booze Meter: Totally Tipsy

Everyone needs a good "visiting cake" during the holidays -- easy-to-make, portable, delicious -- and this one is yours.
It's moist, buttery, and mildly sweet, and pairs perfectly with a cup of tea of coffee. Or a shot of rum.
Golden Rum Cake:
1 cup (2 sticks) unsalted butter
2 cups sugar
4 eggs
3 cups all-purpose flour
1 teaspoon baking powder
1/2 teaspoon baking soda
1/8 teaspoon salt
1 cup milk
1 teaspoon vanilla extract
3/4 cup dark rum

Golden Rum Glaze:
4 tablespoons (1/2 stick) unsalted butter
1 cup sugar
1/2 cup dark rum

Finishing:
3 tablespoons confectioners' sugar

1. Preheat oven to 350 degrees F. grease and flour a 9- or 10-inch Bundt or tube cake pan.

2. In a mixing bowl, cream butter and sugar until light and fluffy. Add eggs one at a time, beating after each addition.

3. Combine flour, baking powder, baking soda, and slat. In another bowl, combine milk vanilla, and rum. Beat flour mixture and milk mixture into the butter in three alternation additions. Pour batter into the prepared pan. Bake 1 hour, or until golden brown.

4. For the glaze: Melt butter in a saucepan over low heat. Stir in sugar and 1/4 cup water and bring to a boil; cook 5 minutes, stirring constantly. Remove from heat and stir in rum.

5. Place cake on a serving platter. Slowly pour glaze over top and sides until completely absorbed. Dust with confectioners' sugar.
Susan Russo is a free lance food writer in San Diego, California. She publishes stories, recipes, and photos on her cooking blog, <Food Blogga and is a regular contributor to NPR's <Kitchen Window. She is also the author of two upcoming books that will be published in the fall of 2010.