Three years ago, I moved my family back to the east coast. No, that's not totally accurate. Truth is, three years ago my family moved me back to the east coast.
When a play I'd co-written was scheduled to open on Broadway, Robin and the kids seized upon that as an excuse to return to the side of the country they longed to live on since we'd relocated to Los Angeles more than a decade earlier. I was dubious. The majority of my work and my friends were located out there and I'm now at an age where even the slightest deviation in routine is regarded as an upheaval. But my family's happiness has always come first (plus they mounted a campaign that included not talking to me until I caved) so, the minute I caved, Robin got on a plane that landed in New Jersey, found a house she thought we'd be happy living in and, not unlike the European immigrants of my grandparents' generation, sent for the rest of us when the time was right.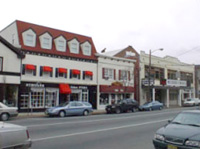 The town she chose was the bucolic enclave of Short Hills. Ancient trees, spacious homes set far back from roads with no sidewalks, a local movie house, quaint mom and pop stores on both sides of a sleepy Main Street – a Rockwellian wet dream just forty minutes from Manhattan.
So after the Broadway show opened, after rehearsals and previews gave way to a frozen script that no longer required my daily services, I set about trying to make the transition as seamless as possible. Toward that end, my instinct was to simply adhere to the same schedule that had been successful during my years in Los Angeles – that is, wake up at 5:30 in the morning and start to write. Problem was what to do with myself once my day's work was through. A great writing day, one marked by inspired ideas and inventive ways to express them, would still come to an end, at the very latest, 12:00. Six and one half hours and I'm spent. Dry as a bone. And it's noon. And I'm in Short Hills, New Jersey.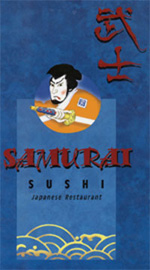 So I'd go for lunch. My eatery of choice, for no reason other than it was furthest from my house so it would eat up more of the afternoon driving there and back, was a Japanese restaurant called Samurai Sushi. I really like sushi and generally know what I'm going to order without consulting a menu. Problem was that that I also hadn't consulted the chef. The one wielding the sharp knives. Didn't know I was supposed to. But I found that out when I took a seat and requested a spicy tuna roll.
"No tuna! Shrek!" he yelled.
"Shrek"? I asked in a tone modulated with every hope it would serve as an example of the decibel level I wanted this conversation to continue in. No such luck.
"Shrek!" he shouted while serving me what the menu called a Shrek Roll – which instantly became the greatest thing I'd ever tasted. So great, in fact, that I ordered another.
"Shrek."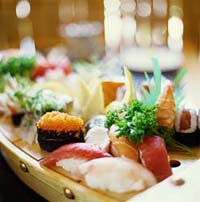 "No Shrek! Dynamite!" he roared just moments before it magically relegated the Shrek Roll to the second greatest thing I'd ever tasted.
Intrigued, I ordered another Dynamite and this time was not surprised when he yelled while offering up a dish that made both the Shrek and Dynamite rolls drop down a notch on my newly created "greatest hand rolls in the world" chart. And I continued this ordering, being yelled at, then really enjoying what he gave me sequence until the chef informed me that I was full and told me to pay up and go home. Which I did. And felt better that I had found someone in my new hometown whom I could trust.
So a few days later I returned with some reading material to look at while he prepared what he thought I'd enjoy. I was in the market for a new car and had narrowed the search down to two choices: an Audi and an Infiniti. I was going back and forth between both brochures and starting to feel confident that I wouldn't make a bad choice no matter what I decided when the sushi chef yelled, "Prius!"
"Excuse me?"
"Prius!"
"But I was thinking more along the lines of…"
"Prius!" he repeated and held his stare much longer than all the other sushi chefs that had ever served me combined.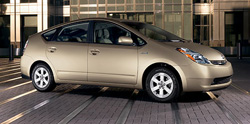 A friend of mine had a Prius and really liked it. He let me drive it once and I really liked it. It got about forty miles per gallon, was environmentally friendly, and I wouldn't have to park it around the block from the Japanese restaurant like I would an Audi or Infiniti for fear that the chef would see it and yell at me. So I bought a Prius. And I love it.
Which brings us to Super Tuesday. Last week, during lunch, I was reading thumbnail sketches of the candidates as they appeared in The Newark Star-Ledger when I heard form the other side of the sushi counter, "Huckabee!"
"No," I said as politely as I knew how.
"Huckabee!" he shouted.
"You don't understand…"
"You don't understand!"
Fact is, I fully understood. I had deferred to him before and he expected me to do so again. But something about this one was wrong. I am a lifelong Democrat and this wasn't about sushi or car preferences. No, this was about my convictions and heartfelt principles and really, what is a man if he his doesn't stand by his convictions and heartfelt principles? Even if the person he's standing up to is leaning over a sushi bar and brandishing very sharp knives while continually shouting "Huckabee" about an inch from your face. So mustering all the resolve I could gather, I held his steeled gaze, took a deep breath and boldly responded, "Yes, Huckabee" with every hope that New Jersey's laws don't allow maniacal right wing sushi chefs to follow you into the booth to see who you really voted for.
Samurai Sushi
339 Millburn Ave
Millburn, NJ 07041
Tel: 973-921-2848
An original Saturday Night Live writer, Alan Zweibel collaborated with Billy Crystal on his Tony Award winning play "700 Sundays". Most recently, Alan's novel, "The Other Shulman" won the 2006 Thurber Prize for American Humor.