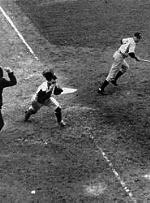 I've had some interesting influences in my life. Two of them were goats. Both were in baseball, but in very different ways.

One was Mickey Owen, the catcher for the Brooklyn Dodgers in the 1941 World Series. In Game 4, the New York Yankees were trailing by a run with two out and nobody on in the ninth inning when Tommy Henrich swung and missed for strike three. That should have ended the game, but the ball got away from Mickey, and Henrich wound up on first. The Yankees rallied to win the game, and went on to win the World Series. Despite being a four-time All-Star in his 13-year career, Mickey Owen was always remembered for his dropped third strike and was forever known as a goat.

When I was eleven, I went to the Mickey Owen Baseball School in Miller, Missouri. Those two weeks in the middle of summer were so hot and humid that, in one game I pitched, two kids on the other team passed out. One dropped right in the batter's box, and the other fainted while taking a lead off second base. I went over and tagged him out. I felt a little bad about tagging out a kid who was lying in the base path unconscious, but I shook it off – just like Mickey would have done.

The other goat was an actual billy goat named Murphy that belonged to William Sianis, a Greek immigrant who in 1937 first opened the famed Billy Goat Tavern in Chicago. It's the place that inspired John Belushi's "Cheezborger Cheezborger" sketch on "Saturday Night Live".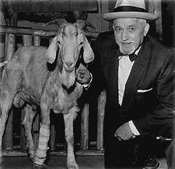 When the Cubs made it to the World Series in 1945, Game 4 was played in Chicago, and Sianis bought two tickets, box seats – one for himself and one for his goat.

During the game, Cubs owner Phil Wrigley had Sianis and the goat removed from the park, and Sianis retaliated by putting a curse on the team. The Cubs lost the game and the World Series, and that was the last time they played in the Fall Classic.

As a die-hard Cubs fan, my life has been greatly affected by the Curse of the Billy Goat. And if that wasn't enough, Mickey Owen later wound up playing for the Cubs.

I don't know if Mickey and Murphy ever met, but I hope they did. It would be nice to know that such influences in my life had met. I just wish they weren't goats.
Robert Keats is a screenwriter and humorist.