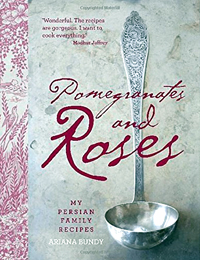 I've always been a summer kind of girl but I've got soft spot for winter holidays especially the festivities of the winter equinox. In Persian culture, on the first night of winter (which is also the longest night of winter), everyone stays up late to gather around one another, eat great food, and share poetry and stories. We call this evening Shab-e Yalda.
So while I don't quite have the fire pit to gather my friends around, I do have my beloved coffee table (it can hold just the right amount of coffee table books than a true book collector can dream of) and every winter, I purchase a delicious cookbook to make new dishes and a new storybook for friends to discover when they come over.
For this year, I'm displaying two of the most beautiful books I have ever come across: the cookbook Pomegranates and Roses: My Persian Family Recipes
and the illustrated book Shahnameh: The Epic of the Persian Kings
which is a new illustrated version of Ferdowsi's beloved tale. So whether it's to celebrate Shab-e Yalda or any of this season's holidays, both of these incredible books make fantastic gifts. They are visually striking, lavish in detail, and truly memorable.
So eat, read, and repeat all winter long…between the decadent recipes in Pomegranates and Roses and the 500 plus pages of illustrated beauty in Shahnameh…there's plenty to get cozy and happy about over this holiday season.