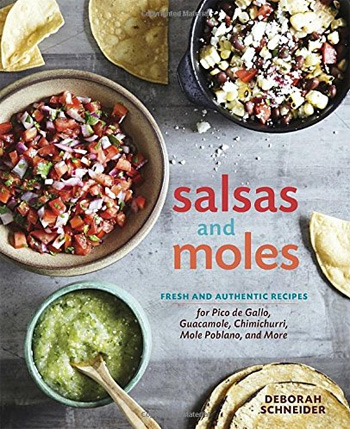 Last spring I had the pleasure of interviewing chef and restaurateur Deborah Schneider about salsas for a San Diego Union-Tribune article "Simply Salsa."At the time, her award-winning 2006 cookbook, Baja! Cooking on the Edge!, named one of the "Best Cookbooks of the Year" by Food and Wine magazine, had just been re-released.
I was tickled. Schneider's cookbook was the first one I bought after moving to San Diego eight years ago. I thought, I'm gonna talk salsas with Deborah Schneider! Followed seconds later with, It's salsa. How much can we possibly say about about it?
The interview lasted an hour, though Schneider readily admitted that she could have talked for several more. (Her passion about salsas and their place in Mexican cuisine is deliciously genuine and contagious.)
Now, you too can talk salsas (and moles) with Schneider with her latest cookbook, "Salsas and Moles: Fresh and Authentic Recipes for Pico de Gallo, Mole Poblano, Chimichurri, Guacamole, and More."
In her introduction, Schneider says this book "is designed to teach you essential Mexican cooking techniques and one very important skill: how to introduce and balance big flavors to create sensational effects." As someone who has made several of the book's recipes, I can say that the design works.
There are primers on how to handle and cook all types of fresh and dried chiles, how to stock your pantry, how to chose spices and herbs, and essential cooking techniques such as charring and dry roasting.
There 's also a lot of interesting information about salsa's history, its role in Mexican cuisine, and its role in American cuisine.Think you already know everything there is to know about salsa? Measure your salsa IQ with the list below:
Salsa is not meant to be eaten with chips. According to Schneider, for Mexicans it would be like putting ketchup on crackers.
Salsas are not raging hot. Apparently, that's an American obsession with BIG flavors.
Salsas are hyper-local. Though they share similar cooking techniques and ingredients.
Salsas "swallow" salt and other seasonings, so you often need to add more salt than you think.
The quintessential salsa in Mexico does not contain tomatoes. It's charred or boiled tomatillo salsa with jalapeno and toasted garlic.
How'd you do? Don't worry if you flubbed it; Schneider is a calm and encouraging teacher. You'll be a master salsa maker by the time you work through her cookbook. If you aced it, then you're ready to move on to moles.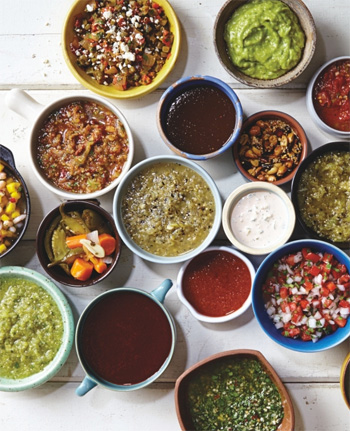 Schneider groups recipes by use (Classic Table Salsas, Hot Salsas, Salsa for Tacos) and by class of ingredients (Mole and Enchilada Sauces, Chunky Salsas and Botanas). You'll find the usual suspects including pico de gallo, salsa verde, and chimichurri. But the vast majority of the book features enticing recipes such as salsa diabla (fresh tomato salsa with chipotle), green cactus pear salsa verde, and hatch chile salsa.
Heat-seekers will relish the chapter on hot salsas where recipes are ranked on a heat scale. You can begin by poking the fire with a Level 5 chile guero salsa made with guero chiles and tomatillos, or jump right into the fire pit with a diabolical Level 8 "evil green hot sauce" made with serrano and habanero chiles and tomatillos.
Once you've worked your way through salsas, you'll be energized to tackle more intimidating moles. With her characteristic patience and passion, Schneider illustrates through multiple recipes that moles aren't as scary as they seem. Yes, they typically have long ingredient lists. Yes, they cannot be rushed. But when done correctly, a made from scratch mole can transform a meal (and your perception of Mexican cooking). With an open mind (and in this writer's case, a cold IPA nearby), you'll learn how to soak, grind, fry, puree, and stir, stir, stir your "hard-won mole into a triumph." Recipes range from the classic mole poblano to the sesame seed-studded mole pipian to the busy cook's quick mole.
To round out the book, Schneider includes a handful of recipes for fresh, winning botanas, or snacks, such as roasted corn and black bean salsa, green apple and jicama salsa, and shrimp and salsa.
Whether you're a salsa and mole newbie or novice, Schneider's latest book will add bursts of flavors and colors to your cooking. And who couldn't use some of that?