Panir Bereshte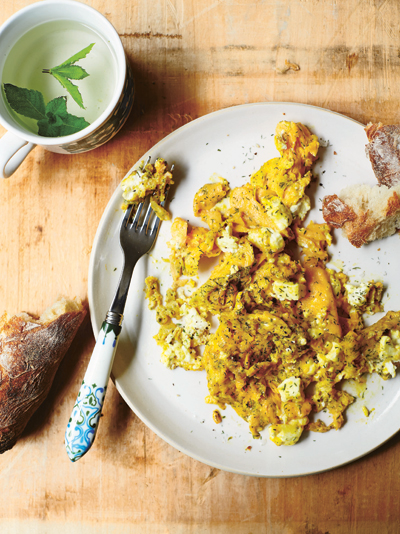 This regional specialty from the northern province of Gilan brings together fragrant, sweet dill with creamy, salty feta in a perfect weekend breakfast or light lunch dish, served with warm toasted bread. This is one of those simple recipes that every Gilaki student learns how to cook as soon as they leave home, since it uses store-cupboard ingredients and comes together in minutes.
The trick to making good scrambled eggs is to avoid overcooking them, so they remain fluffy and moist. I find the best way to do this is to take them off the heat when they are ever so slightly underdone and let them finish cooking in the heat of the pan.
4 medium eggs
Sea salt and black pepper
1 tablespoon sunflower oil
Scant tablespoon butter
½ cup (2 oz) feta, roughly crumbled into chunks
½ teaspoon turmeric
2 teaspoon dried dill
Toasted bread, to serve
Crack the eggs into a bowl, gently beat them with a fork and lightly season with salt and pepper.
Place a small frying pan over a low heat for about a minute before adding the oil and butter. (Heating the pan first reduces the chances of your eggs sticking later.) When the butter has melted, add the feta and cook for about 20 seconds until the cheese begins to melt and ooze.
Pour the beaten eggs into the pan, then scatter over the turmeric and dill. Leave to cook for 20 seconds without stirring, then lightly fold the ingredients together to ensure an even mix. Leave to cook for a further 15 seconds before folding the mixture together again.
Continue like this, folding occasionally but not continuously, until the eggs are almost cooked but still a bit runny. At this point, remove from the hob and let the eggs finish cooking for 1 minute in the heat of the pan. Serve at once, with warm toasted bread on the side.
Serves 2
- This except is reprinted with persmission. All rights reserved. The Saffron Takes: Recipes from the Persian Kitchen: ©2016 Yasmin Khan. Bloomsbury Publishing.