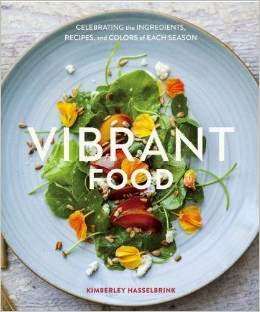 I reviewed a lot of cookbooks this past year, but these are some that I feel really strongly about. Let me tell you why...
Vibrant Food: Celebrating the Ingredients, Recipes, and Colors of Each Season
is one of the most beautiful cookbooks this year, written by the talented The Year in Food blogger and photographer, Kimberley Hasselbrink. She has an eye for color and texture and that means her mostly vegetarian recipes are as pretty to look at they are delicious to eat.
Her flavor combinations are often unique but make perfect sense. She pairs risotto with edamame and sautéed radishes. She tops grilled halloumi with fresh strawberries, mint and cilantro. Turkey burgers are topped with cheddar and balsamic figs.
The book is divided into seasons and highlights different ingredients. Feeling bored by Winter squash? Chile Roasted Delicata Squash with Queso Fresco or Soba Noodles with Kabocha Squash in a Mellow Japanese Curry will jazz things up. This is an inspiring book with very unique and appealing recipes.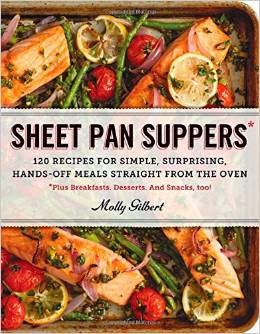 Sheet Pan Suppers
is a book I wish I had written. I remember when I first discovered big rimmed sheet pans, and how you could basically prepare a whole meal using them. They are great for roasting vegetables, meats, even seafood. Line the pan with foil or parchment paper and the clean up is a breeze! This book has 120 recipes, mostly for roasted dishes but also treats like an Apple Galette, Espresso Biscotti and Carrot Layer Cake with Cream Cheese Frosting show you the versatility of sheet pans.
Of course some recipes use things like ramekins set on a sheet pan, but most don't. Most of the dishes serve 4-6 but some of the brunch dishes serve 8 or even 10. And all you have to do is use 2 sheet pans, and voila! You've just doubled the recipe. The recipes I can't wait to try include Citrus Miso Whole Fish, Baked Baby Back Ribs with Potatoes, Israeli Couscous Stuffed Peppers, Apple, Prosciutto and Radicchio Pizza and Stone Fruit Slab Pie. These recipes are just plain smart!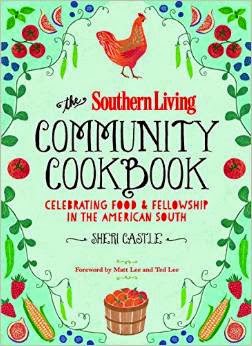 I am kind of in awe of The Southern Living Community Cookbook
. I didn't want to like this book, but I absolutely love it! If you treasure community cookbooks, this is the book for you. It's a collection of recipes from the South, they range from very old school Lime Gelatin and Cottage Cheese Salad, to the thoroughly modern Sweet Potato Pie with Cornmeal Rosemary Crust or Bok Choy and Crunchy Ramen Salad.
But the bulk of the book is the most popular recipes from the region—Banana Pudding, Chicken, Shrimp and Ham Jambalaya, Jezebel Sauce, Pickled Peaches, Milk Punch all lovingly curated by Sheri Castle. This is a great collection for anyone who wants to explore Southern food.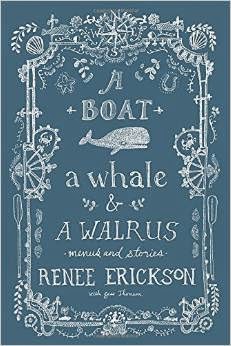 A Boat, a Whale & a Walrus: Menus and Stories
is a cookbook by the restaurateur Renee Erickson of Seattle. I was smitten with her Boat Street Cafe pickles the moment I tasted them and truly, sitting at the bar eating seafood at The Walrus and the Carpenter is a quintessential Seattle experience if there ever was one. Why? because it's small, genuine, a little bit in your face and a whole lot of fun.
This book captures a lot of what the Pacific Northwest is all about. It's unpretentious, with a longing glance towards France at times. It's very American, but also has influences from here and there in dishes like Preserved lemons, Fresh Tomato Pasta or Raw Asparagus Aalad. Some of the recipes are very simple like Radishes with Green Goddess Dressing, Boiled Crab, Grilled Bread but others are transformative like Brown Butter Vinaigrette or Mussels in Cider with Dijon Creme Fraiche and Tarragon. The book has menus and profiles of the producers, staff and other folks involved with the business and the recipes are organized by season, it verges on being precious at times, but just barely. If you long for Seattle like I sometimes do, you will find it deeply satisfying.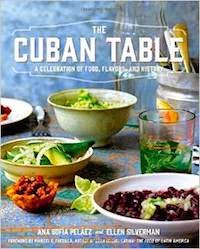 I've never been to Cuba, but the photos and recipes in The Cuban Table: A Celebration of Food, Flavors, and History
are transporting. You can just feel the sun on your shoulders and hear the Cuban beat the minute you crack open the book. It's possibly the most comprehensive book on the subject with over 110 recipes.
This book is such a treasure, it shares the recipes from many sources—from homes, lunch counters and restaurants, from Cuba and from Cubans living in the US. It also shares enough of their stories to inspire wanderlust or satisfy culinary curiosity. This book is the next best thing to being adopted by an extended Cuban family.
Recipes I want to try include Media Noche Sandwiches, Stuffed Avocados, Chickpea Stew with Chorizo, Chicken Pies and Dulce de Tomate.
Amy Sherman is a San Francisco–based writer, recipe developer, restaurant reviewer and all around culinary enthusiast. She blogs for Epicurious , Bay Area Bites and Cooking with Amy .