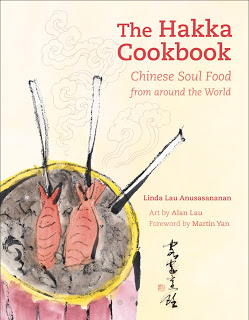 If you want to try Hakka cuisine, head to Hakka Restaurant in San Francisco, or read Linda Lau Anusasananan's book, The Hakka Cookbook: Chinese Soul Food from around the World
. I received a review copy of the book in the Fall, and was lucky enough to dine with the author at Hakka Restaurant recently and fell in love with the hearty robust flavors and comforting rich dishes.

Even if you have other Chinese cookbooks, it's worth getting to know Hakka cuisine, because it's mostly home style cooking, ideal to try in your own kitchen. In the bookk Anusasananan traces her roots and shares stories from the people she meets on her journey into her past.

Since Hakka people moved all over the world, there are stories about the cuisine from places like Peru, Hawaii and certain cities in the US and Canada.
There are classic recipes for Fried Pork Hash Wontons, Salt Baked Chicken (which Anusasananan thinks may have been the creation of a crafty salt salesman) and lots and lots of vegetable dishes including Braised Mountain Mushrooms, Pickled Carrots and Radishes and Stir Fried Iceberg Lettuce and Garlic. Anusasananan was previously a recipe editor at Sunset magazine, so needless to say you won't have trouble with her recipes.
According to Anusasananan, the Hakka are like the "Jews of China," nomads, who migrated from North-Central China to the South in the fourth century. They have their own language, and the name Hakka literally means "guest family." Their cuisine is the food of the working person, robust and sometimes fatty.
They use a lot of salt-preserved ingredients such as preserved vegetables, cured meats and soy sauce. The food is related to Cantonese, but more rustic. Famous Hakka classic dishes include Steamed Pork Belly with Preserved Mustard Greens, Stuffed Tofu, and Salt-baked Chicken.
Amy Sherman is a San Francisco–based writer, recipe developer, restaurant reviewer and all around culinary enthusiast. She blogs for Epicurious , Bay Area Bites and Cooking with Amy .