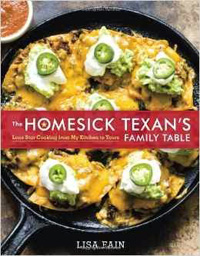 Any fans of Lisa Fain's first cookbook, Homesick Texan or her blog, Homesick Texan, will surely enjoy The Homesick Texan's Family Table
, her latest cookbook of recipes inspired by family favorites. Fain always manages to put her own twist on the recipes, updating them, making them even better than you might remember and her stories of growing up in Texas will charm even those who have never been to the Lone Star state.
There are plenty of guilty pleasure recipes like Bacon and Chipotle Corn Pudding, Stacked Jalapeño Cheese Enchiladas and Potato Chorizo Breakfast Tacos, but also more modern fare like Blueberry Granola, Turkey Enchiladas with Sweet Potato Chipotle Sauce and Tuna with Avocado and Red Pepper Baked in Parchment.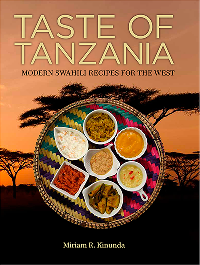 I tend to shy away from self-published books, but I was intrigued by Taste of Tanzania
. I've not seen very many African cookbooks and even fewer designed for a Western audience. There are many indigenous ingredients that you won't be able to find, and author Miriam Kinunda has made substations and focused on recipes that are more practical.
The recipes show a wide range of influences, Persian, Portuguese, Indian and also some Asian and European and has a lot of soup, stew and vegetable dishes. Some particularly appealing recipes include Swahili Beans, red beans cooked with coconut milk, onions, ginger, tomatoes and cilantro, Fish in Peanut Sauce and Ginger Tea.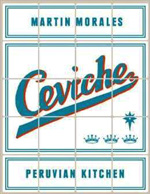 With the title "Ceviche" you might be inclined to think this is a cookbook of ceviche recipes. But it's actually Ceviche: Peruvian Kitchen
is a cookbook of recipes from a Peruvian restaurant in London named "Ceviche." Ok, now that we have that out of the way, this is a really cool book. It's all about Peruvian cuisine which is a pretty interesting thanks to influences from Spain, Italy, Africa, China and Japan and of course indigenous ingredients (think quinoa, potatoes and pisco).
The cooking techniques are different too, like the staple Huancaina sauce with onion, garlic, amarilla chile paste, fresh cheese, evaporated milk all bound together with crushed cream crackers. There are actually recipes for ceviche, and plenty of other seafood, as well as vegetable dishes like avocado and rice fritters, potato based "causas," a kind of mashed potato cake, Andean pork and potato casserole and classics like lomo saltado, a Pervuican style beef stir dry. There is also a section on cocktails. Some ingredients like rocoto, goldenberries and chulpe corn may be unfamiliar, this is a cuisine worth getting to know and the book is a great place to start.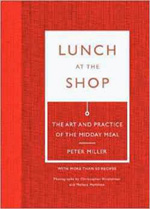 I love the idea behind Lunch at the Shop
which is to cook a mid day meal at your office. The photographs and styling by Christopher Hirsheimer and Melissa Hamilton is lovely, unfortunately I found the recipes to be more like a mishmash of ideas that generally involved a lot of the same ingredients—beans, pasta, and avocado. Also many of the recipes require cooking something at home, then basically reheating it at the office.
One recipe suggests stretching store-bought sushi with a salad of bibb lettuce and some orange and avocado. I get it. Be creative and use what's at your disposal. But I didn't find the recipes (such as that one) worthy of book status. Nor do I believe, despite what the author says, that spaghetti and clams is a good dish to reheat and serve at work.
Amy Sherman is a San Francisco–based writer, recipe developer, restaurant reviewer and all around culinary enthusiast. She blogs for Epicurious , Bay Area Bites and Cooking with Amy .