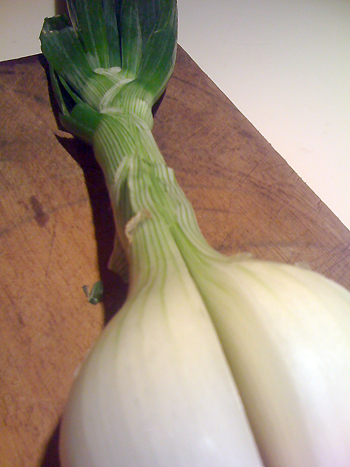 I confess, I couldn't live without onions - maybe if I was marooned on an uninhabited tropical island and there was literally 'nothing' to slow cook or even firewood [I suppose] I would have to adapt. No other vegetable makes me happier then local onions - it is my favorite. All the different varieties have separate flavors and I love to do different thing with each variety from Ailsa Craig to Walla Wallas.
The first onion of the season is always baked whole with a knob of butter, a few tablespoons of maple syrup and wrapped in foil or parchment paper. I slow bake the onion parcel at 325 degrees F for at least and hour and a half-you will know when it is done when the aroma makes its way all the way to the other side of your house. How is that for precise recipe writing?
After I've eaten my first baked onion of the season with a spoon I can relax and get a bit more creative. Did I mention I encourage my onion farmers to leave the green tops on? They think I'm a little daft to pay for the extra weight only because they have never baked one of their onions split in two, covered with a touch of stock and baked in a covered dish until it is tender and very little liquid is left. I pour a little heavy cream over the top along with its distant cousin, chopped chives and reduce the cream until thick-ish. Any variety of onion works - red onions will tint the cream a delicate rose color.
I try to prepare an onion a day as a vegetable course and to push the limits of my imagination. I have made onion soup but not how you are thinking. Yes, I slow cook the sliced onion in butter but I never let them get any color. I add a little flour and cook away its rawness for a few minutes. I whisk in stock slowly - chicken, vegetable or even shellfish. Slowly the cream of onion soup will thicken and you decide if you like it rustic or not-puree it in a blender or not. I love to add a touch of cream to make it velvety and tarragon is my herb of choice. And if you are missing that cheesy rendition how about a slice of grilled bread covered with sliced Comte and broiled. Serve it floating in the center of the bowl.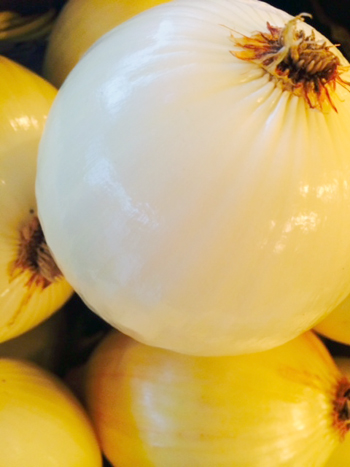 Once a season I fill a scooped out jumbo-sized onion, leaving two or three outer layers of onion only and fill the center with a Spanakopita filling. A pound of chopped fresh spinach, 2 eggs, a teaspoon each of dill, chopped scallion and parsley, and a ½ cup of crumbled feta cheese. I mix this well with my hands and stuff it into the onion that I have sliced off a bit from the bottoms so they sit up straight. Baked at 350 degrees for 45 minutes or until the air smells of onion and it is puffed and golden.
I make onion relish to have waiting in my refrigerator for a quick cheese and pate plate. Simple to make - sliced onions, red wine, balsamic vinegar, sugar to taste and rosemary. I slow cook it over a low flame, covered for at least an hour until it melds together and is transformed into relish.
The only preparation I haven't made yet that hangs over my head is an onion for dessert. I had a 'food-gret' (regret) many years ago when I foolishly failed to order an onion from the dessert menu at Alain Ducasse's Paris restaurant. Why? Not because I thought it ridiculous or that it wouldn't be good but because it didn't go with the rare sparkling cider that the sommelier gifted us with.
Of course there is more to the story, but that is all I am admitting to. I should have ordered the stuffed onion…
Brenda Athanus runs a small gourmet food shop in Belgrade Lakes, Maine with her sister Tanya called the Green Spot.
The Green Spot
This email address is being protected from spambots. You need JavaScript enabled to view it.
207.441.9327