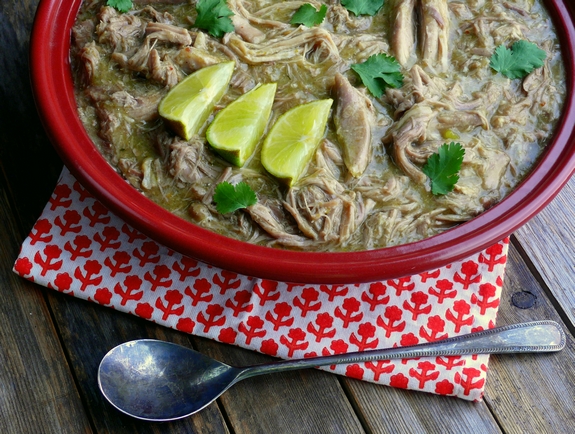 Seriously folks what is with all the bad weather in the U.S.? When I'm tooling around on Facebook I feel like I've been living everyone's bad weather, including my own. So much snow everywhere. Let's hope Spring comes a little early this year. All these gloomy days means the slow cooker has been earning its keep. This Pulled Pork Chile Verde has been something I've been working on. But today it was perfect and that's why I'm sharing it with you.

My goals for this recipe were straightforward. I wanted a dish that makes enough food for several meals, reheats well, lower in calories and a version even picky eater kids would eat and love. All were accomplished!

In regards to meal times, my older son is easier to please than my younger one. Let's just say I have a real critic when it comes to what he wants to or will eat. But he loved this. I purposefully made it mild enough so the kids would enjoy it. You can do the same and add hot sauce to get the heat you prefer or use a spicier sauce to begin with.
The kids enjoyed eating this with tortilla chips and my husband and I made "sloppy tacos" with sour cream, lime juice, green Tabasco and avocados. They were delicious.
Slow Cooker Pulled Pork Chile Verde
Recipe from Cathy Pollak for NoblePig.com | Serves: 8-10
Ingredients:
3 cups water 4 teaspoons chicken bouillon powder or 4 bouillon cubes
1 Tablespoon ground coriander
1 Tablespoon ground oregano
2 teaspoons cumin
2 teaspoons onion powder
1 teaspoon garlic powder
1 teaspoon fine ground pepper
2 whole bay leaves
1 (8 lb) pork butt roast*
2 (28 ounce) cans green enchilada sauce (mild or medium depending on what heat level you prefer)
Directions:
In a 7 quart slow cooker add water, bouillon, coriander, oregano, cumin, onion powder, garlic powder, pepper and bay leaves. Stir to combine. Place pork but in the liquid, cover and cook on low for 10 hours.
Remove meat from the slow cooker. Pull apart meat and shred with two forks, removing all fat. Discard all juice from the slow cooker basin (you could strain this stock and use it later for another recipe, removing all settled fat on the top).
Without cleaning the slow cooker basin, place the pulled meat back inside and pour enchilada sauce over the top. Stir to combine and cook on high for one more hour.
Serve as tacos, with tortilla chips or by itself. Perfect condiments are squeezes of lime juice, sour cream, avocado and green Tabasco.
*If you use a smaller pork butt, use 7 ounces of enchilada sauce per pound of pork. You also might be able to cook it in a shorter amount of time. For example, if I had a 6 pound roast I would have cooked it for 8 hours. Anything smaller maybe 6-7 but not below 6 hours. You could also slightly decrease the spices but it's not necessary.
Cathy owns a vineyard and winery in the Willamette Valley of Oregon. She is a food writer for Davis Life Magazine and blogs daily about wine, food and everyday living. She lives with her husband and two sons. You can visit her at noblepig.com.