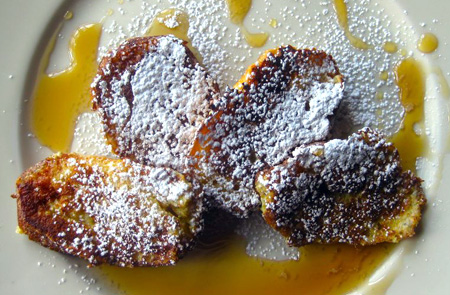 Serves One
Ingredients:
2 madeleines
1 egg
dash nutmeg
1 tablespoon heavy cream
sweet butter
Maple Syrup
confectionary sugar
Method:
1. Beat one egg with the cream and a dash of nutmeg (or freshly grated nutmeg).
2. With a serrated knife, carefully slice each madeleine lengthwise to yield three slices.
3. Soak the slices in the egg bath for about two minutes, or until they have almost absorbed the bath.
4. Heat a non-stick pan with a tablespoon of sweet butter. When it is melted, add the little French Toasts and cook on low to medium heat. I usually put a top on the pan to gently cook the interiors. Check after a minute, and if they are golden underneath, turn them over, put the top on, and cook again until the bottoms are golden.
5. Transfer to a plate, drizzle with Maple Syrup, and shower with confectionary sugar.
- Recipe courtesy of Marché Dimanche.