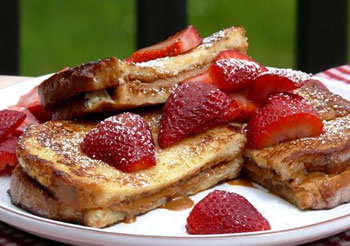 Recipe created by Noble Pig | Serves: 4
Ingredients:
1 pound strawberries, hulled and sliced
6 Tablespoons granulated sugar, divided
4 large eggs
1/4 cup whole milk
2 teaspoons vanilla extract
1/2 cup Biscoff spread
8 slices good quality white bread
2 Tablespoons butter
confectioners' sugar
Directions:
Combine strawberries with 3 Tablespoons granulated sugar. Whisk eggs, remaining granulated sugar, milk and vanilla. Spread the Biscoff on 4 slices of bread and top with the remaining slices.
In a large nonstick skillet, heat butter over medium heat. Dip both sides of sandwiches in egg mixture and add to skillet, one or two sandwiches at a time, depending on the size of your skillet. Cook until the sides are golden, about 2 minutes. Flip and cook 2 minutes more.
Serve the French toast dusted with confectioners' sugar and top with strawberries (and whipped cream if you're crazy).