Note: Make sure to pick over the lentils for stones. Wash them well in many changes of water until the liquid is near clear. Strain into a sieve.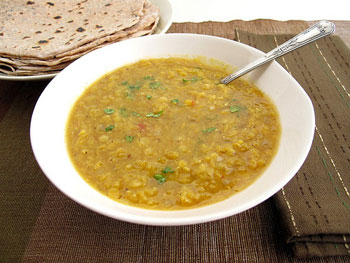 2 tablespoons vegetable oil
1 medium to large yellow onion, chopped
4 garlic cloves, finely minced
1 tablespoon grated ginger (about 1/2-inch piece)
1 tablespoon garam masala, recipe follows
1 teaspoon turmeric powder
1 teaspoon paprika
2 medium to large tomatoes, seeded and chopped, juices reserved
2 pounds red lentils (2-1/4 cups)
6 cups water or vegetable broth
6 curry leaves, fresh or dried
1 serrano chile pepper (optional)
fine sea salt
freshly ground black pepper
chopped cilantro, for garnish
chapatis (recipe follows), for serving

Warm a large pot over medium-high heat. Add onion and saute until translucent, about 5 minutes. Add garlic and ginger; saute until fragrant, about 1 minute. Add spices and saute until fragrant, about 1 minute. Add tomatoes and their juices. Scrape up any residue in the pot. Add lentils and water; bring to a boil. Add curry leaves. Cut a slit into the chile and add. Cover, reduce to a simmer, and cook until lentils are tender, about 20 minutes. Season with salt and pepper. Remove curry leaves and chile before serving. Garnish with cilantro and serve with chapatis. Yield: 6 servings.

Garam Masala

1 teaspoon cumin seeds
1 teaspoon cardamom seeds
1/2 teaspoon whole cloves
1/2 teaspoon coriander seeds
1/4 teaspoon black peppercorns
1 stick cinnamon (about 3-inch piece)
1/2 whole nutmeg

Warm a small sauté pan over medium heat. Add all the ingredeints and toast (do not burn) until fragrant, about 3 to 5 minutes. Allow to cool. Transfer to a spice grinder and process until a fine powder forms. Store in a jar with a tight-fitting lid until ready to use. Yield: 2 tablespoons.
- Recipe courtesy of Joseph Erdos