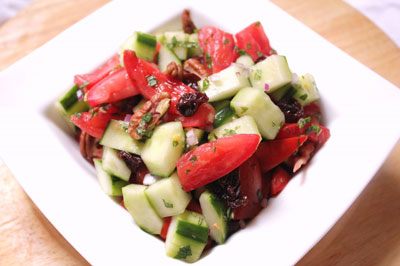 4 – 5 large vine-ripened tomatoes (about 1 1/2 pounds)
1/2 teaspoon table salt
3 tablespoons extra-virgin olive oil
2 tablespoons lemon juice from 1 lemon
lemon zest from 1 lemon
1/2 teaspoon honey
1/4 cup finely chopped red onion
1/4 cup finely chopped fresh mint leaves
Ground black pepper
2 medium cucumbers, peeled, quartered, seeded, cut into 1/4-inch pieces, tossed with 2 teaspoons salt in strainer set over bowl, and drained about 1 hour (discard liquid)
1/2 cup dried cherries
1/2 cup pecans
INSTRUCTIONS
Core and halve tomatoes, then cut each half into 4 or 5 wedges. Toss wedges with salt in large bowl; let rest until small pool of liquid accumulates, 15 to 20 minutes.
Meanwhile, whisk oil, lemon juice, lemon zest, honey, red onion, mint, and pepper to taste in small bowl. Pour mixture over tomatoes and accumulated liquid and toss to coat. Rest to blend flavors, about 5 minutes.
Add drained cucumber pieces, the cherries and the pecans. Toss to combine. Adjust seasonings and serve immediately.
- Recipe courtesy of Alison Wonderland Tucker