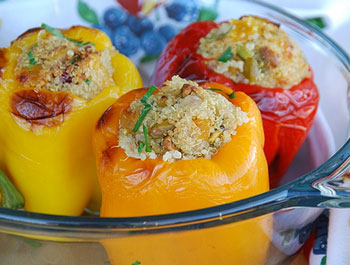 Makes 4-6 servings
1 cup uncooked quinoa
2 1/2 cups water
2 teaspoons olive oil, plus a little extra for drizzling the stuffed peppers
1 large shallot, finely diced
2 celery stalks, finely diced
1/2 cup dried Turkish apricots, diced
1/3 cup dried tart cherries, chopped
1/4 cup unsalted pistachios, coarsely chopped
1/4 teaspoon ground cinnamon
2 teaspoons fresh minced ginger
a generous amount of salt and freshly ground black pepper
2 tablespoons chopped fresh mint, cilantro, or parsley (my favorite is mint)
6 small (about 3-4 inches tall) or 4 large (about 5-6 inches tall) red, yellow, or orange bell peppers

Preheat oven to 350 degrees F.

Pour the uncooked quinoa in a fine-mesh sieve; rinse and drain. (This helps remove some slight natural bitterness from the grains). In a medium saucepan over high heat, add quinoa and water; bring to a boil. Reduce heat, simmer, and cover until all of the water is absorbed, about 15 minutes. (If the water has evaporated before the quinoa is cooked, just add a bit more.) The quinoa will be done when the grains have turned partially white, and the spiral-like germ of the grain is visible. They should maintain a slight crunch when eaten. This will yield about 2 cups cooked quinoa.

In a small skillet over medium heat, warm 2 teaspoons olive oil. Add shallots and celery; saute 2-3 minutes, or until shallots are translucent. Add diced apricots and cherries, and saute 1-2 minutes. Add pistachios, cinnamon, ginger, salt and pepper, and fresh herbs. Stir together and heat through. Place in a large bowl. Add cooked quinoa, and toss until well combined. Taste the stuffing and adjust seasonings as necessary.
Wash and dry the peppers. Using a pairing knife, remove the stem, core and seeds. Divide the stuffing equally among the peppers. Place stuffed peppers in a casserole or similar baking dish and drizzle the tops with 1 teaspoon extra virgin olive oil.
Bake for 40-45 minutes, or until peppers are softened and wrinkly and a few brown spots appear on the skin. If the stuffing is browning too much, cover the tops of the peppers with a piece of aluminum foil. Serve hot or at room temperature. Garnish with chopped fresh herbs, if desired.
- Recipe courtesy of Food Blogga.