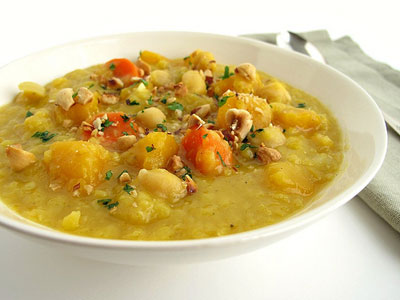 Note: If you can't find Ras el hanout, substitute Garam Masala.
2 tablespoons olive oil
1 large yellow onion, chopped
2 garlic cloves, finely chopped
1 tablespoon grated ginger (about 1/2-inch piece)
1 tablespoon Ras el hanout
2 teaspoons ground cumin
2 teaspoons ground coriander
6 to 8 cups vegetable stock
1 2-pound butternut squash, peeled, seeded, and cubed
2 carrots, sliced
2 cups red lentils
1-1/2 cups chickpeas, soaked overnight and drained
1 large pinch saffron, crumbled
fine sea salt
freshly ground black pepper
chopped hazelnuts, for garnish
chopped parsley, for garnish
Warm oil in large pot or Dutch oven set over medium-high heat. Add onion, garlic, and ginger. Sauté until onion is soft, about 3 to 5 minutes. Add Ras el hanout, cumin, and coriander and toast until fragrant, about 1 to 2 minutes. Pour in stock. Add squash, carrots, lentils, and chickpeas. Add saffron and season with salt and pepper. Bring to a boil and reduce to a gentle simmer. Cook, partially covered, until chickpeas are tender, about 30 minutes. Serve in bowls and garnish with chopped hazelnuts and chopped parsley. Yield: 6 to 8 servings.
- Recipe courtesy of Joseph Erdos