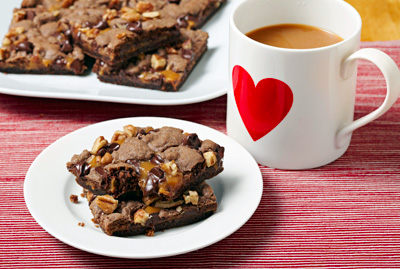 When I was 7 my mother, Susan, met my future stepfather, Larry. They had been dating for about a month when she made him a batch of caramel nut brownies—a recipe she'd come up with herself. Larry took one bite and blurted, "Oh my gosh, I love you!" It was the first time he'd said anything like that, and it was sort of a joke—but then he followed up with, "Actually, I really do love you, and I've been wanting to tell you that." After they got engaged, Larry renamed the recipe "Man-Catcher Brownies."
Mom taught me how to bake when I was 12, and these brownies were one of the first recipes she shared with me. "Remember, Amy, whoever eats these will fall in love with you," she said. I knew she was teasing, but the brownies still took on magical properties in my mind. My friends and I would have sleepovers and bake batches of them for boys we had crushes on. Sometimes we'd be sneaky about it and bring the brownies to the whole class, just so that a particular guy would be sure to eat one. When one of us had a steady boyfriend, we'd make up a nice little bag for him and tie it with a bow. Larry was on to our schemes. "Those man-catcher brownies work, so y'all be careful," he'd say. "Don't give 'em to anyone who won't treat you right for the rest of your life."
In fact, there was one boyfriend of mine in junior high who wasn't so nice to me, so I dumped him. The next day he came up to me and said, "I know we broke up, but my mom really wants the recipe for those brownies." I told him, "Nope. That's for boyfriends only." I made these brownies for my husband, Drew, early in our relationship. I'd say the recipe definitely worked its magic, since we've been together for 11 years. He'll never admit it was the brownies. But I know better.
Man-Catcher Brownies
30 Kraft caramels, unwrapped
2/3 cup evaporated milk
1 15.25-oz pkg german chocolate cake mix
1⁄2 cup unsalted butter, melted
3⁄4 cup semisweet chocolate chips
1⁄2 cup chopped pecans or walnuts
Heat oven to 350°F and line the bottom of a 9-by-13-inch baking pan with parchment. melt caramels with 1/3 cup of the evaporated milk in a small saucepan, stirring mixture occasionally; set sauce aside.
Stir together cake mix, melted butter and remaining 1/3 cup evaporated milk to form a dough. press 1 1/3 cups of the dough into the pan in an even layer. Bake until puffed but not cooked through, about 7 min. Remove from oven and pour caramel sauce evenly over the top.
Sprinkle chocolate chips over caramel in an even layer. Top with remaining dough, crumbled into bits and scattered. Sprinkle with chopped nuts and return to the oven. Bake until brownies are puffy and set, 10 to 11 min more. Cool completely and cut into squares.
SERVES 16
Amy Westerman and her husband, Drew, live in Maumelle, Arkansas. She teaches high school Spanish and spends her free time cooking, baking and playing Roller Derby.
Reprinted with persission from The Ladies' Home Journal