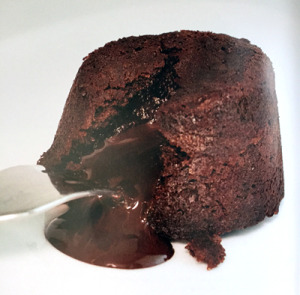 While I may be a decent home cook - I have my share of successes in front of the stove and am pretty good at food and wine pairings - I loathe baking. It's just too precise for me and since we rarely eat sweets anymore - I'll take the cheese course over the dessert course every day of the week - I've never felt compelled to get any better at it. Which is weird because I really like science. I am super impressed by what people are able to create, but the time and energy involved makes me want to run from the kitchen.
With Valentine's Day around the corner, I wanted to create a special treat that did not take hours upon hours, any unusual equipment, or a mass of specialty ingredients to end our home-cooked meal. Yes, I know, I'm a lazy chef. Plus, I've been married a long time and honestly it doesn't take much to impress my husband in the kitchen. He can barely boil water…though he can fix ANY computer or iPhone problem, so we must celebrate each other's strengths.
When I came upon Chef Ludo Lefebvre's Hot Chocolate Galettes from the CRAVE: A Feast of the Five Senses - 10th Anniversary Edition
, I knew I hit the jackpot. We are big fans of his cooking and while I love this book, many of the recipes in it are still way out of my league. Most of the desserts, however, are classics and while not necessarily always simple to make, they rely on basic ingredients and clear techniques that aren't out of the wheelhouse of most home cooks.
This recipe has only 5 ingredients and honestly took about 15 minutes to put together. You assuredly have all of them in your cupboard right now. The quality of the finished product all depends on what chocolate you use so don't skimp out there. I used a 72% dark chocolate bar I got from Trader Joe's. I would not go any darker than that. No milk chocolate here either. The recipe can be found in the "Smell" section of the cookbook and it really does deliver on that point. Just 10 minutes in the oven and our mouths were watering in anticipation.
I usually only take a bite or two before the sweetness of a dessert overwhelms me, but this one had me downing the whole little cake within a few forkfuls. Paired with a nice ruby or vintage port and you've got yourself a winning finale to this special evening. This was so simple, yet so good I WILL be making it again. This is baking I can get behind. It's delicious and impressive with very little effort. We'll just keep that part a secret from the spouses....
PS: This recipe makes 4 galettes, but they're quite small compared to most dessert portions, so feel free to eat two. It's a holiday after all. Also do not go past 11 minutes no matter how soft the galettes look. Any longer and you'll lose the gooey factor.

HOT CHOCOLATE GALETTES
Recipe courtesy of Ludo Lefebvre / Crave: 10th Anniversary Edition
If you love the smell of warm chocolate, you'll love these miniature treats – you'll think there's a chocolate factory in your kitchen. They're all but pure chocolate, crispy on the outside and molten within.
4 servings
INGREDIENTS:
3 ounces good-quality bittersweet (not unsweetened) chocolate, chopped
1 tablespoon unsalted butter
1/4 cup sugar
1 large egg
1 large egg yolk
2 tablespoons all-purpose flour
DIRECTIONS:
Line 4 cupcake molds with paper or foil cupcake liners; set aside. Stir the chocolate and butter in a heavy small saucepan over medium-low heat until melted and smooth, about 1 minute. Remove from the heat.
Using an electric mixer, beat the sugar, egg and egg yolk in a large bowl until thick ribbons form on the surface of the batter when the beater is lifted, about 5 minutes. Sift the flour over the egg mixture, then fold in the flour. Fold in the melted chocolate mixture. Using a trigger ice cream scoop, spoon the batter into the prepared cupcake liners. Cover and refrigerate until cold, at least 1 hour or overnight.
Preheat the oven to 400 degrees F. Remove the "cupcakes" from the molds and place them in their papers on a heavy baking sheet. Bake until the tops of the galettes puff and crack and a tester inserted into the center comes out with moist batter attached, about 10 minutes.
Remove paper/foil cupcake liners from cakes and invert 1 galette on each of 4 dessert plates. Serve immediately.
- Recipe courtesy of Crave: 10th Anniversary Edition. All Rights Reserved. ©2014 Ludo Lefebvre