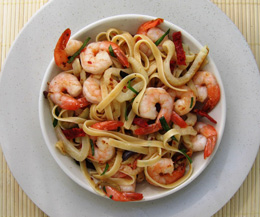 As a little girl, my favorite candies were Twizzlers and black jelly beans. Every Easter I would pick all the black jelly beans out of the bowl and leave the rest for everybody else. Though I rarely eat jelly beans any more, I love to cook with fennel, which has a distinctive licorice scent and flavor.
Although fennel has become fashionable over the last couple of years, this herb has actually been enjoyed in cooking since antiquity. Many cultures use fennel as a culinary ingredient and as an herbal medicine, and as evidenced at my house, it's a staple in Italian cooking.
It is a remarkably versatile herb and pairs beautifully with fruits such as oranges and apples as well as classic Mediterranean ingredients such as olives and eggplant. When eaten raw, its crunchy celery-like texture and sweet licorice flavor gives depth to salads. When sautéed or roasted, it takes on a savory quality. In fact, all parts of the fennel, from the bulb to the feathery fronds, are edible.
And since it's St. Valentine's Day this week, I thought you'd like to know that ancient Romans considered fennel an aphrodisiac and likely would have used it instead of chocolate for a romantic evening. As so many culinary trends are cycical, I'm predicting that fennel will become the new chocolate for Valentine's Day.
I can see it now: Food Network's Fennel February, heart-shaped fennel treats on the cover of Gourmet, contestants choosing fennel for the Passionate Dish Elimination Challenge on Bravo's Top Chef...
Tagliatelle with Pan-Seared Shrimp and Fennel
Makes 2 servings

4 oz tagliatelle (or linguine-type pasta)
4 tablespoon olive oil
1 small garlic clove, minced
1 small fennel bulb, thinly sliced
20-24 extra large raw shrimp
¼ cup sliced mixed green and black olives, such as Nicoise, Cerignola, or Kalamata
2 tablespoon sun-dried tomatoes, thinly sliced
1 tablespoon fresh basil, thinly sliced
1 tablespoon fresh parsley, thinly sliced
A few shakes of crushed of red pepper
Salt, to taste

Cook pasta in salted water according to directions.

In a large skillet over medium heat, add 2 Tbsp olive oil. Add fennel, and sauté for 3-4 minutes until it begins to brown; add garlic, and sauté 1 more minute. While the fennel is still slightly firm, remove from heat, and place in a bowl. Add the olives, sun-dried tomatoes, basil, parsley, crushed red pepper, and salt.

In the same skillet over medium-high heat, add another 2 Tbsp of olive oil. Add the shrimp, and sauté for 5-7 minutes, turning to ensure that they brown nicely on both sides.

Add the cooked pasta and the fennel mixture into the skillet with the shrimp; toss well. Plate the pasta; sprinkle with more fresh basil and parsley. Finish it off with a drizzle of good extra virgin olive oil.
Susan Russo is a free lance food writer in San Diego, California. She publishes stories, recipes, and photos on her cooking blog, <Food Blogga and is a regular contributor to NPR's <Kitchen Window. She is also the author of two upcoming books that will be published in the fall of 2010.