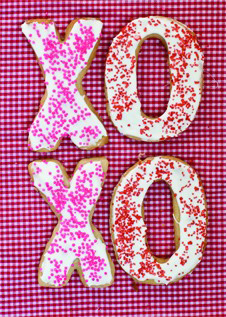 I do love a good holiday and any holiday that gives me an excuse to bake with a theme is fine by me. This year, dinner is at home with my four boys (M is included as he is in fact still a boy). Making all of their favorites; grilled lamb chops with a delicious marinade (parsley, basil, garlic, shallots, and coconut oil), asparagus tart, stuffed tomatoes, and chocolate lava cakes for dessert.
Now that my family is taken care of, I couldn't let their teachers and some of our favorite people go unnoticed. Isaac has the greatest teacher this year and not only is she going to get a huge box of Sees Lollypops (her favorite), but she is going to get a selection of both butter-sugar cookies and these cocoa shortbread cookies. There are countless other teachers and staff members that will also be getting a neat little box wrapped in ribbon. Each box will represent how much we adore and love each and everyone of them.
On this Valentine's Day, I will hug and kiss my kids and tell all my boys how much I love them. Yet, come to think of it, it really doesn't have to be Valentine's Day to say and do these things; it pretty much happens everyday!
Cocoa Shortbread with Chocolate Chunks
Adapted from Carole Bloom's Intensely Chocolate
40 2″ cookies
Ingredients:
8 oz (2 sticks) unsalted butter, room temperature
1/4 cups(4 1/4 oz.) confectioners' sugar, sifted
1 teaspoon pure chocolate extract
1 1/2 cups (6 1/4 oz.) all purpose flour
3/4 cup (2 1/4 oz.) unsweetened cocoa powder (I use Callebaut)
1/4 teaspoon kosher salt
1/2 cup chopped, bittersweet chocolate (I lke Scharffen Berger)
1 batch of simple buttercream frosting
1 batch of royal icing
Instructions:
In the bowl of an electric mixer, beat the butter until creamy. Add the confectioners' sugar and beat until blended. Add the chocolate extract and blend well.
Sift the flour and the cocoa, add the salt and blend. Add this mixture to the mixing bowl and mix until just combined. Add the chopped chocolate and combine. Wrap the dough in plastic wrap and chill until firm, at least an hour.
Take the dough out of the fridge and on a lightly floured surface (I like to use a marble slab), roll out the dough to 1/4″ thick. Using a 2″ cutter (I used a square), cut out as many cookies as possible. Re-roll the dough and repeat (I made the dough several days in advance. I placed my square shapes on parchment on a cookie sheet and froze the dough, shaped. Once frozen, I placed in a freezer safe container until ready to use).
When ready to bake, preheat oven to 325°F. Line your baking sheets with parchment and set the cookies on the parchment, 1 1/2″ apart. Bake the cookies for 8 minutes, rotate the pans and bake for another 8 minutes, or until they are firm.
Cool completely on wire racks. once cool, decorate, eat, and enjoy.