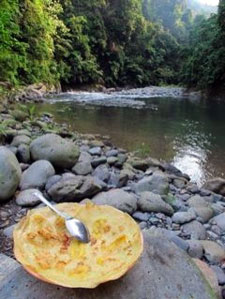 I remember a conversation with my good buddy and talented food writer, Monica Parcell, a few years back. The gist was the proliferation of food bloggers and the common themes. We basically bitched  "we don't care about your vacation to France" (because it's always France, and maybe sometimes Tuscany).
So here I am, talking about my recent trip to Indonesia. But, it's not just about sharing vacation memories, it's about Banana Pancakes. When we weren't staying at a hotel with a buffet breakfast (like the Phoenix Hotel in Yogyakarta – with the lovely morning adventure of fresh exotic juices, spicy soto ayam – chicken soup with condiments, rice porridge, tapioca with coconut cream, eggs sambal, fried noodles, platters of fruit, cheesy yogurt, fresh donuts, etc.) our choice for breakfast was between "banana pancake" or nasi goreng – fried rice with veggies topped with a fried egg and a few shrimp puffs. I always opted for the nasi goreng – it was too good to pass up. I love spicy food- even in the morning.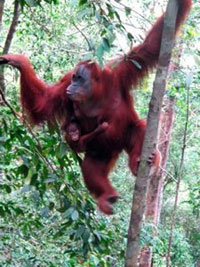 When trekking in Sumatra to view orangutans, we camped out on the river near Bukit Lawang one night. Oudin, our camp-master fixed us an amazing dinner, then for breakfast, Banana Pancake. The pancakes were like the others served on Java and Sulawesi, but impressive in that they were fried in a well-seasoned wok over an open fire in the middle of the jungle. Indonesian banana pancakes are like a thick crepe with a mosaic of whole banana slices. The cake part is a little rubbery, but the tender pieces of moist banana are a sweet-soft contrast. Like everything when you're camping, they tasted sooo good, but not the kind of thing that I would ever want to re-create at home.
I prefer my banana pancakes to Oudin's, even though they are less impressive in that they are lazily prepared in the comfort of my modern kitchen, but just like his jungle pancake, I too like whole pieces of banana in my batter—I never mash the bananas. I simply slice them into the whole-wheat, buttermilk batter and break up the slices with a bit of rough whisking. By doing this, you get plenty of banana flavor, without messing with the light, flannely texture of the pancake.
Here is the recipe. I promise that you will like it. See? Reading about my trip again held some sort of reward.
BANANA PANCAKES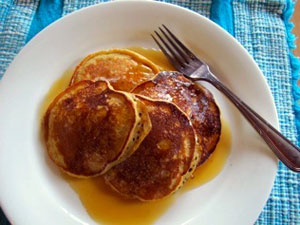 Makes about 18 4-inch pancakes
1 cup white whole wheat flour
3/4 teaspoon baking soda
3/4 teaspoon salt
2 eggs
1 1/2 cups buttermilk
2 tablespoons grapeseed or vegetables oil
1 tablespoon maple syrup
2 very ripe (like black—it's okay!) bananas
Butter for frying and eating
Warm maple syrup
Whisk the first 3 ingredients to blend in a medium bowl. Whisk in the buttermilk, then beat in the eggs. Add oil and syrup and whisk until just blended. Slice the bananas thinly into the batter. Whisk slices vigorously into the batter so that they break into small pieces. (The batter should be a little chunky.)
Preheat a griddle or skillet over medium-high heat. Melt butter on griddle, greasing the griddle completely. Spoon about 3 tablespoons batter onto hot griddle, creating a 4-inch pancake. Cook until a few holes appear on the surface of the pancake and the bottom side is well browned, about 3 minutes. Using a spatula, carefully flip the pancakes over. Place a little nob of butter on the top of each pancake and cook until the second sides are golden brown, about 1 minute longer. Transfer to plates and serve with maple syrup.
Jeanne Kelley is an established food writer, recipe developer and food stylist based in Los Angeles, California. Integrating locally grown produce with globally influenced flavors, Kelley's approach to cooking is both simple, festive and fresh. Her recipes can be found in her latest book is Blue Eggs and Yellow Tomatoes: Recipes from a Modern Kitchen Garden
and on her blog Eat Fresh.