by Alison Wonderland Tucker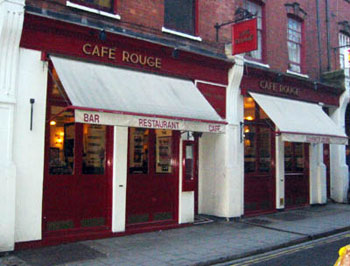 My mother, Shannon, and I scurried down Little Clarendon Street, Oxford at around 10:15 at night. We were starving and eager to sit down and talk. My mom had steered us down this road because there are a number of good restaurants to choose from: French, Italian, Tapas, Indian. I peered into each window and chose the least crowded of the bunch – the French one. If left to me, I will always choose the emptiest because I find that the din of busy restaurants these days overwhelms any chance of having a decent conversation. We hadn't traveled all this way to explore new cuisine. We had come to see my mom.
My birthmother just graduated from The Continuing Education Department at Oxford University, with a focus on regional history. I couldn't be more proud than to celebrate her continuing achievements, so Shannon and I flew to Oxford to watch her graduation ceremony that evening.
We pushed open the big red door of Café Rouge and walked through the bar into the dining room of the brasserie. The room was big with dark oak floors and tables, burgundy velvet banquettes, and antiqued mirrors which hung from every wall. We waited for a few minutes and then were shown to our table by a disinterested, lanky blonde waiter. He carelessly danced around, making faces at another lanky blonde waiter working the other side of the room. Menus were tossed onto our table, orders taken and we started to catch up.
My mother is originally from Cambridge. She moved back to the UK a couple of years ago after living in or around Washington DC for forty plus years. It's nice to see her back in England. I had a sneaking suspicion this was where she belonged, which was instantly confirmed the moment I saw her face.
The waiter eventually returned with our drinks- a glass of house white for both Shannon and my mom, some water for me.
There is a face… when people drink a bad glass of wine… that is really unlike any other face. It is like watching all the facial muscles contort into one tortured, puckered kitty asshole. I saw it happen across and beside me –along with a sound – like that tortured kitty had been struck suddenly with a two by four. Maybe this is why I had gotten sober. They agreed it was bad, but let it go.
We waited for our meal to arrive. And then we waited more. Our waiter was in the back of the near-empty dining room laughing on his cellphone.
We took pics of my mom with her diploma and talked about where Shannon and I would be traveling to next (this was our first stop in a two week journey abroad).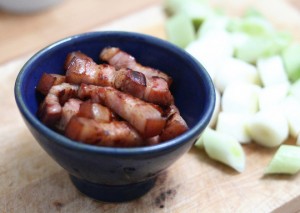 Eventually, our waiter sauntered our meals over to us. I had ordered the coq au vin, which seemed like a pretty safe choice to me. Ha. The chicken was small and shriveled on the plate, cooked so far beyond its point of tender juiciness that I had to double up on sauce with every bite. Not that the sauce could help anything. Good coq au vin begins with the rendering of salt cured pork lardons, which are removed after they leave a delicious fat in the pan to sear the chicken in.
The lardons are added back into the dish as a garnish right before serving, completing the taste profile with a little extra salt and fat. My plate was completely lardon free. It also contained no pearl onions, which are a non-negotiable ingredient as far as I'm concerned. Both the chicken stock and wine used tasted cheap and pre-packaged.
Coq au box au vin was more like it.
I ate in silence.
My mother had ordered the sole meuniere, which had been lazily prepared – bones left in, perimeter untrimmed. It too had been overcooked and she ate it quietly without looking up from her plate once.
Shannon had the moules mariniers served with French baguette (which was missing) and a side of very greasy frites with mayo. The mussels were tiny and sad- overcooked, under seasoned, and rubbery. Shannon reminded the waiter about the bread to sop up the juice at the bottom of the bowl, and 10 minutes later, the bread that arrived was clearly a prepackaged, frozen, Wonderbread-esque white bread cut to resemble a baguette. Shannon squished it between his fingers and it offered no resistance whatsoever. It smelled like the white rolls that Subway poisons the air with, all sugar and double-bleached white flour. I can't walk by those places without getting nauseous.
The three of us sat and ate in silence, because, of course, we were in England, where you don't make a huge fuss – certainly if you're just visiting. I didn't want to upset my mom on her special night.
Finally, the server circled back around our way and I felt my face contort into the "I'm not going to tell the truth at all" smile that it makes when I'm looking to avoid confrontation. He started to clear the plates, "All done?" I was smiling and nodding vigorously, looking, I'm sure, like someone much less intelligent or functional than I actually am.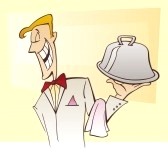 "Everything delicious?" blondie asked as he grabbed the last plate.
My mother cleared her throat. "Well, if you must know…"
I was impressed. This wasn't like my mother, who normally suffers life's discomforts in silence.
"I wouldn't have said anything, but since you asked, my fish was so overcooked, it was almost inedible."
Shannon took over. "These mussels were disgusting."
"My chicken was tough and dry." I chimed in, fake smile replaced by a real one.
The waiter looked unimpressed and asked us to wait for a moment as he went to get the manager.
I saw my boyfriend's eyes light up with vengeance. Shannon was a chef for over 10 years in New York and worked on the line in some of the finest establishments, including The 21 Club. He knows what he's doing in the kitchen. He does not normally complain after an unsatisfactory meal, but this had gone too far.
The manager came to our table.
"What's the problem?"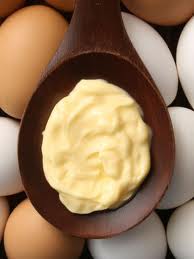 "Well," Shannon began, "this meal was really disappointing. Your staff has clearly gotten lazy and you're allowing mediocre if not downright disgusting food to leave the kitchen. It takes two seconds to remove the bones from a piece of sole once you've learned how." He quickly mimed the movements of deboning on the greasy placemat in front of him. "You've overcooked everything here, left out key ingredients, and gotten sloppy with presentation. Look – your mayonnaise isn't even fresh. The least you could do is make a fresh aioli, man. It's not tough to figure out. This is clearly from a can." (The word "jar" momentarily disappearing from Shannon's jet-lagged vocabulary).
"Sir, sir. Please." The manager responded. "I assure you, this mayonnaise is not from a can. It's from a tube."
BINGO.
A tube.
The three of us burst out laughing. It was just too funny now.
The manager sighed and said "My apologies sir and madams. We are a chain. The management has streamlined our food production… and then, you know, this is England. We've had to adjust our food for this clientele."
My mother sat up straight now. The manager had been so focused on Shannon and his American accent that he had possibly forgotten a Brit was sitting at the table too. Or maybe he just didn't care who he offended.
We were all so dumbfounded by his admission that we sat speechless. They intentionally make the food WORSE because that's what the British want? Really?
He excused himself for a moment and then returned with the bill. The adjusted check showed he had comped the entire meal except for the wine! The funny thing was that he did it without any request or fight from us. We were just complaining. We never assumed we'd get the meal for free. The manager had clearly had more than a few of these conversations in the past and he had a set response. Comp everything. (Except for the wine, which Shannon and my mom laughingly said they should have complained about too.) As we left the restaurant, I looked again at the décor. The "antique" mirrors which reflected with a brown tinge were attached to the walls with large visible screws instead of delicately hung on invisible hooks. It was like someone had bought a "Open a Brasserie for $1.00 a Day" book and followed all the instructions.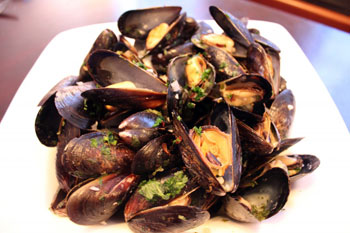 As I said before, we weren't looking for the meal of a lifetime. Shannon and I frequently eat at a French brasserie style restaurant in New York called Le Monde, which is also a chain. The food is always reliable, the servers attentive, and the cost affordable. That is all I ask.
I'm not a food snob, I just want to be able to enjoy my meal while spending time with the people I love.
I think mussels are harder to screw up than they are to cook properly. The only trick is not overcooking them, and they even have timers built in. When they open, they're done. Actually, the real trick is buying good mussels, which can be found at any reputable fish store.
They aren't expensive, they take more minutes to clean than to cook (which is only a few) and they are such a lovely reward as the days get longer and the air warmer. I love to bake so I always make a fresh baguette to dip in the juices that remain at the bottom of the bowl, but any authentic baguette will do.
Mussels Mariniere
Ingredients
3 tablespoons butter, divided
3 cloves garlic, minced
1 shallot, chopped
4 quarts mussels, cleaned and debearded
2 cups white wine
6 tablespoons chopped fresh parsley
red pepper flakes
Directions
Scrub mussels. Pull off beards, the tuft of fibers that attach each mussel to its shell, cutting them at the base with a paring knife. Throw away the ones that do not close when you handle them as they are dead and any with broken shells.
Heat 2 tablespoons of butter in a large pot. Add the shallot and garlic, sautéing until they soften and smell delicious. Add the wine and bring to a boil. Lower heat, and cook 2 minutes. Add mussels, and cover. Cook just until shells open, 3 to 4 minutes. Do not overcook. Remove mussels from sauce, and place in bowls.
Strain liquid, and return to pot. Add remaining butter, parsley and red pepper flakes to taste. Heat until butter melts. Pour over mussels.
Alison Wonderland Tucker is a chef and caterer who lives and works in New York City. She writes about her love of food and life as a chef on her blog A Wonderland of Words.