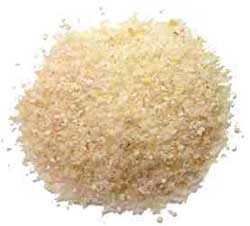 I think I stopped giving grits a chance many years ago when Lucy became our family pet. She's an amazing bird, a Yellow Naped Amazon parrot that has an unbelievable vocabulary, an infectious laugh, can tell my identical twin brothers apart and eats grits every morning for breakfast. Sounds charming but think about being awakened by a bird with a loud, piercing voice calling my name every morning demanding her grits.
By golly, you better get them right or she gets mad and starts screaming. She likes her grits a bit runny, butter, salt and pepper with a sprinkling of cheese. They need to sit for a few minutes so they won't burn her beak because that really makes her mad. Get it right and she turns into this loving soul who will say in her lovely southern accent "Praise the Lord" and "You're a very pretty girl." Gee thanks.

Grits are nothing more than coarsely ground corn, one stage away from being cornmeal. Three quarters of all grits made are sold in the 'grits belt' which stretches from Louisiana to North Carolina and here's what I find very humorous; Georgia Code 50-3-78 reads as follows: "Grits are recognized as the official prepared food of the State of Georgia." Come on my fellow Georgians, can't we come up with something better to represent us than grits?

Until recently I rarely allowed them to touch my plate, which I have had full control of because there's no mistaking their identity; a white, pasty, mushy dish with butter floating on top. Why waste the calories as I would much prefer to save them for a few extra pieces of bacon. And whoever heard of serving grits after the breakfast hour?

Recently I was caught off guard. I took a bite of my perfectly prepared fish at a very fine restaurant and underneath was this creamy, rich concoction that was delicious. I no longer cared about my fish but could I just please have a big bowl of whatever this is beneath my fish? I was shocked, it was grits. I decided it was time to work through my issues and learn to embrace grits.

I have had several foodie friends rave to me about grits lately. One was telling me about a chef at the restaurant "Salt" at the Ritz Carlton Amelia Island that the New York Times is doing an article on. He supposedly makes this unbelievable grits dish that takes 2 days to prepare. She said it was the best thing she has ever put in her mouth and she's not even southern and probably the finest diner I know in New York City. I am beyond curious. I can not wait to try them. It's a start.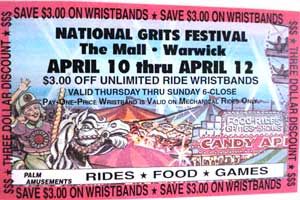 Just when my curiosity had peaked, lo and behold I see on the front page of the food section of the Atlanta newspaper that The National Grits Festival was going to be held the following weekend. You've got to be kidding, I thought, a weekend of celebrating grits? I kept reading and saw it was in Warwick, Ga, which is the grits capital of Georgia.
I have never heard of Warwick or a grits festival but after looking on a map, I figured out it was a 30 minute drive from my parent's house. Ok, I'm in. I was kind of embarrassed to tell anyone I was going, much less ask anyone to go but I figured I could entice a couple of my nieces to go with the promise of funnel cakes. One of them was quick to ask if they put grits on the funnel cakes. Poor child, she's inherited the chore of making grits for Lucy as my mother gave Lucy to her family as an early inheritance gift.

We arrived at the grits festival just in time for the official "Jump in the Grit Pit" contest. A huge tub is filled with grits and folks take turns jumping in and rolling around to see how many pounds of grits they can fill their clothes with. My nieces were not amused and I assured them that we would not be participating. I got them a funnel cake which they carefully examined it to make sure there was no trace of grits. The look on their faces spoke volumes and their usual non-stop chatter had turned to silence. I decided it was best that I did not traumatize them and suggested we take off and drive an hour north to the "Peach Festival." Now I am speaking their language.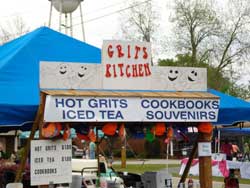 Besides my immediate family, I did not tell anyone we went to the 'Grits festival.' I didn't want to have explain my newfound fascination with grits nor admit I had nothing better to do on a Saturday than go to a grits festival. A few days later I was reading the Atlanta Journal on-line and saw an article about the National Grits Festival. Did they actually send a reporter to this because we're talking about a tiny festival in a town with a population of 500, several hours away from Atlanta?
Yes, they did and their reporter was the one I stood and watched by the grits pool. Little did I know the whole thing was being filmed and there I was, front and center, with my nieces on the video they posted on the web site. I quickly clicked the stop button as I was mortified that my picture would show up somewhere else. It was not one of my more glamorous moments but I am now on a mission more than ever to seek out fancy restaurants with fancy grits.
Shrimp With Tasso Cream Over Stone-Ground Grits
My mother's favorite grits recipe.
4 cups water
2 cups half-and-half
4 tablespoons ( 1/2 stick) unsalted butter
2 teaspoons salt
1 1/2 cups stone-ground grits
2 tablespoons extra-virgin olive oil
1 1/2 pounds large shrimp, peeled, split in half lengthwise and deveined
2 tablespoons minced shallots
5 ounces tasso ham, minced
2 cups heavy cream
Salt and pepper

Instructions:
In a large pot, bring water, half-and-half, butter and salt to a simmer. Slowly add grits while whisking. Continue to simmer, stirring frequently, for 35 to 45 minutes. Shortly before grits are ready, in a large skillet over medium-high heat, add oil. Add shrimp and saute until slightly colored, 1 to 2 minutes. Add the shallots and ham and saute for 2 minutes. Add cream and simmer until cream reduces by one third. Add salt and pepper to taste and serve over creamy stone-ground grits

Shrimp and Scallops in Garlic Gravy Over Stone-Ground Grits
From the South City Kitchen in Atlanta, Georgia
Hands on time: 15 minutes Total time: 1 hour and 15 minutes Serves: 4

Ingredients:
1 bulb garlic
Salt and pepper to taste
1 1/2 cups water
1 1/2 cups milk
1 tablespoon butter
1 cup stone-ground grits
1 1/2 cups heavy cream, divided
1/2 cup red wine
1 sprig fresh thyme
2 cups chicken stock, preferably homemade
2 tablespoons all-purpose flour, dissolved in
1 tablespoon water
1 tablespoon oil, for sauteing
8 medium to large shrimp
8 medium to large sea scallops
1 tablespoon chopped chives, for garnish

Instructions:
Preheat oven to 350 degrees. Sprinkle garlic head with salt and pepper and wrap in foil. Bake 30 to 40 minutes, or until soft.
Meanwhile, in a large saucepan, combine water, milk and butter over medium-high heat.
Bring almost to the boiling point. Stir in grits. Reduce heat to maintain a simmer for 20 to 30 minutes or until grits are soft, stirring frequently. Add 1/2 cup of the cream, and salt and pepper to taste.

In a medium saucepan, combine red wine and thyme. Add the roasted garlic and cook, over medium heat, until reduced by 2/3. Add chicken stock and whisk in flour-and-water mixture; continue cooking until reduced by 1/3. Add remaining 1 cup cream and bring to a simmer, stirring. Simmer for a few minutes to reduce slightly. Strain and season to taste with salt and pepper.
Heat oil in a large skillet or saute pan over medium heat. Add shrimp and scallops and cook until halfway done. Add garlic gravy to pan and cook until shrimp and scallops are just cooked through.
Serve at once over hot grits in a bowl. Garnish with chives.

Laura grew up in a small southern town in Georgia on a cotton and pecan farm where life centered around family, friends and good food. She has lived in Atlanta for 20 years and has been a Flight Attendant for a major airline for 18 years, traveling the world in search for the next best meal.