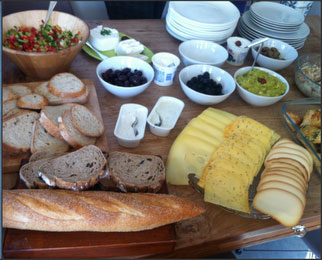 The Israel we know is a land of contradictions and conflicts and common ground can be hard to find. But having just been there, I can say the notable exception to this, is the food. The food is really, really good, and something everyone enjoys with gusto whether it's fine dining or street food. Like the country itself, the food is very diverse. And while the history and scenery might be enough for some tourists, I came for the food. Not just because it's good, but because it provides a window into the culture and the people living there.

While there is diversity in people, politics, heritage, beliefs, religion and more in Israel--enthusiasm and appreciation of food surely is universal. Frankly, it's hard to think of a place with more diverse cuisine; their most famous dishes come from all over the world and use the great local ingredients that are readily available thanks to the climate and often innovative agricultural techniques not to mention Israeli tenacity.
I thought I knew what food in Israel would be--hummus, falafel, olives and the like. I did find all of those things, but I also discovered so much more. Israel is a country of immigrants and refugees from all over the world and they bring their culinary traditions which become woven into the fabric of a modern country that is thousands of years old, but was declared the State of Israel some 64 years ago.
Here are some common and delectable dishes I tried in Tel Aviv that were (mostly) new to me.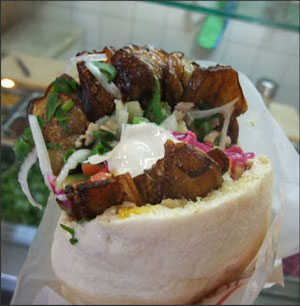 Sabich
Oh my, this is the egg sandwich to end all egg sandwiches. Egg salad, the kind with chopped up hard boiled eggs and mayonnaise is my kryptonite. I cannot stand it. But this unusual combination of thinly sliced fried eggplant, hard-boiled eggs, tahini, fresh tomatoes and lettuce, herbs, slivered onions, pickled cabbage and various hot sauces including amba, a kind of tangy hot, vibrant pickled mango sauce, is something else altogether. Some versions also include thin slices of cooked potato. I know it sounds weird but trust me when I tell you this is one of the most delicious street foods I have ever eaten. It's a riot of flavor and texture and somehow both filling and yet light. Mostly it's layers of soft and silky vegetables but there is juiciness and a little crunch from fresh vegetables too. It was brought to Israel by Iraqi Jews who enjoy it on the Sabbath, because everything can be prepared ahead of time. It's typically eaten either for breakfast or lunch.
Where to eat it: I read that the version at 2 Tchernichovsky Street was the best and I believe it. It is made with care and costs only around $5, a pittance for a sandwich that is life changing!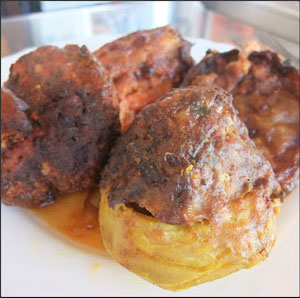 Mafrum
This is another dish I never even heard of before coming to Israel. But I'd go back to Israel just to eat the delicious versions I tried in the Carmel Market. Another dish prepared for the Sabbath, this one comes from Libya. I've also been told it's a Berber dish.
Highly spiced meatballs are packed into artichoke hearts or sandwiched between slices of potatoes or eggplant then dredged in flour then egg and fried and finally cooked in a tomato sauce and served.
Where to eat it: I had it at Dr. Mafrum, Rambam 4 in the Carmel Market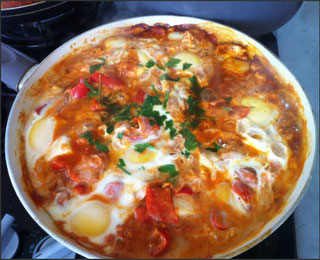 Shakshouka
I first had shakshouka in Morocco, but Israelis have really taken to the dish and it is served just about everywhere, especially for breakfast. It's a cinch to make at home. Just sauté some onions, peppers and add plenty of tomatoes. Cook it into a thick sauce and season it with paprika then poach some eggs in it. Lightly poach the eggs or cook them all the way through, however you prefer. And voila! You have a satisfying dish that demands nothing more than bread to sop up the sauce.
Where to eat it: Anywhere! I had the best version in someone's home. Thanks to a new service called EatWith, you should soon be able to eat in someone's home too when you are traveling to places like Israel, Italy and Spain. But I also had it served in a little cast iron pan at Cafe 12, Rothschild 12, in Neve Tzedek, a very hip neighborhood filled with boutiques and galleries where the beautiful people go. In fact, my dining companion spotted a former Miss Israel, model and actress Gal Gadot who starred in Fast & Furious.
Amy Sherman is a San Francisco–based writer, recipe developer, restaurant reviewer and all around culinary enthusiast. She blogs for Epicurious , Bay Area Bites and Cooking with Amy .