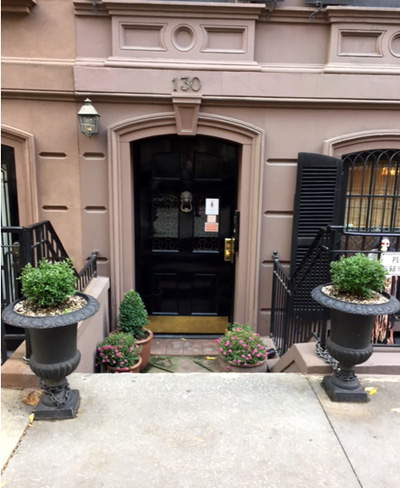 Who says you can't go home again? I just did and am here to testify that though it was a bit strange, it was more than wonderful to return to the place I lived in 41 years ago. Planning my recent trip back east where I would be staying with family and two of my oldest and dearest girlfriends, I decided to start off my trip by staying in a hotel for a few nights. After checking the rates in our two favorite New York hotels, The Regency and The Surrey and catching my breath I decided to look at a few other options.
My husband and I have become huge fans of VRBO and through it we've rented great vacation houses in Hawaii, London and San Francisco to name a few. The house in Kauai we rented several summers ago was spectacular. Seriously we lucked out big time. But getting back to NYC, I combed the VRBO listings and didn't find anyplace I felt like staying in. Those that looked good were either too big or in neighborhoods I didn't know, or just looked like what it was: someone else's nice apt but not mine! Then I remembered that a friend had once mentioned that she'd stayed in a lovely Bed and Breakfast in NYC. What the heck, with nothing to lose, and possibly hundreds to save, I googled B and B's in Manhattan. Quell Surprise! Welcome to a whole new way to go! I had plenty of options to scroll through and scroll I did!
With renewed enthusiasm, scrolling, smiling, practically drooling, something caught my eye. Wait! I know that room! I know those windows! Backing up for a closer inspection, my enthusiasm turned into awe. I stopped and enlarged the picture of the room. That was my apartment! Decades ago, four to be exact! I read the name of The B and B, the 1871 House. The name confused me, but knowing those windows, I clicked onto the 1871 website.
After a brief inspection I found the address, 130 East 62nd Street, and let out a loud OMG, (it was probably Holy S…, be that as it may) as it was indeed where I lived for a year when I was just a pretty young thing of 18! My first serious boyfriend, who became my first mistake husband, lived in a large studio apartment on the second floor of 130 East 62nd Street. I moved in with him in that very studio shown on the B and B website for a year before we got married and moved to a larger apartment. Do I know my windows or what! Needless to say I booked into the 1871 House post haste!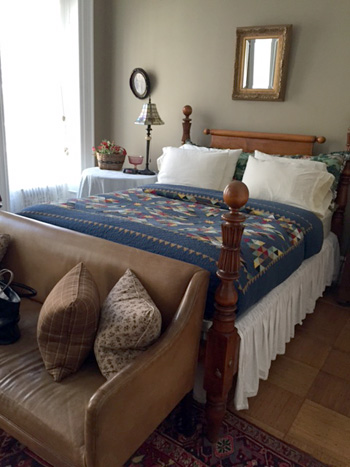 Feelings of trepidation, nostalgia, melancholy, curiosity and joy at the great price, fought for equal time within me. Simply put, the 1871 House turned out to be a fabulous find! A well kept secret that I shouldn't even be writing about! Built in 1871, hence the name, it is one of four row houses between Park and Lexington Avenues in the Upper East Side Historical District.
It's a beautiful five floor brownstone on a tree lined street littered with wonderful brownstones that were beautiful when I lived there and even more so now since most of the buildings are well tended to. Purchased in 1998 by the owner/proprietors Warren and Lia Raum, it's since been renovated with quality, attention to detail, and respect for its historic bones, it was a labor of love.
Both Warren, a financial investment consultant and executive coach by trade, and his wife Lia, have studied New York real estate (as well as psychology, always handy in serving the public!) and have traveled extensively through Europe and the Middle East. Being inspired by inns and boutique hotels throughout their travels, Lia who describes herself as a die hard New Yorker, having grown up and lived in practically every part of the city, brought her keen eye and decorating skills to the project.
In 2005 they undertook a massive renovation of the entry way, stairway and public halls. The first thing one notices when walking through the front door to the foyer is the beautiful hardwood flooring. The 150-year-old oak panels, rescued from a deserted North Carolina tobacco factory, were beautifully brought back to life to welcome visitors to the 1871 House.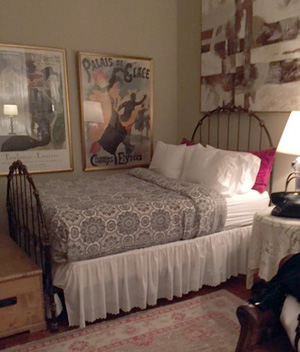 The seven apartment style suites have modern well appointed bathrooms, either full kitchens or kitchenettes and are equipped with flat screen TV's and Wi-Fi. Each room is done in antiques or antique reproductions, beautiful Aubusson rugs and tasteful, brightly colored art. The linens are top quality cotton and each bed is covered with an inviting duvet or hand sewn antique quilt with pillows fluffed to perfection. Comfort, the whole effect screams comfort and relaxation and feels like a well cared for country home in the middle of the city. Just the effect the Raums were going for.
"For us the house is a retreat from the crowds and commerce, the noise and excitement of city life," says Lia. And so close to the some of the best restaurants in New York, (the Fig and Olive half a block down on Lexington), and a stones through away from the Blessed Three B's: Bloomingdales (1 block away) Barney's (3 blocks) and Bergdorf's (5 blocks)! With subways and cross-town buses within walking distance its location is an easy ride to downtown or over to the Westside.
The 1871 House, my old home, is my new New York City home away from home. And for the record, the decades in between have been so good to me, not a bad or vengeful thought did I have about that first mistake husband as I walked up the stairs past our old apartment.
Seriously, not many of us can say "I Do" at 19 and mean it! Now all I have are delicious memories of those soft sheets, perfect pillows, and the Kiehl's grapefruit body cream in the bathroom of 130 East 62nd Street. I can't wait to go home again!
The 1871 House
130 East 62nd Street
New York, 10065, NY
212-756-8823
www.1871House.com
LA based Writer, Annie Stein, has written for C and More Magazines, NYTimes and is a regular blogger on Huffington Post. She runs creative writing workshops for at risk teens.